Finding the right hostel can be a hassle as there are so many of them, and every year more will open. In the 15 years of travelling (and working as a travel consultant) I've collected a few tips and tricks for finding the right hostel.
Are you not sure if you are the type of person who should stay in a hostel? Then first check out my blog post here!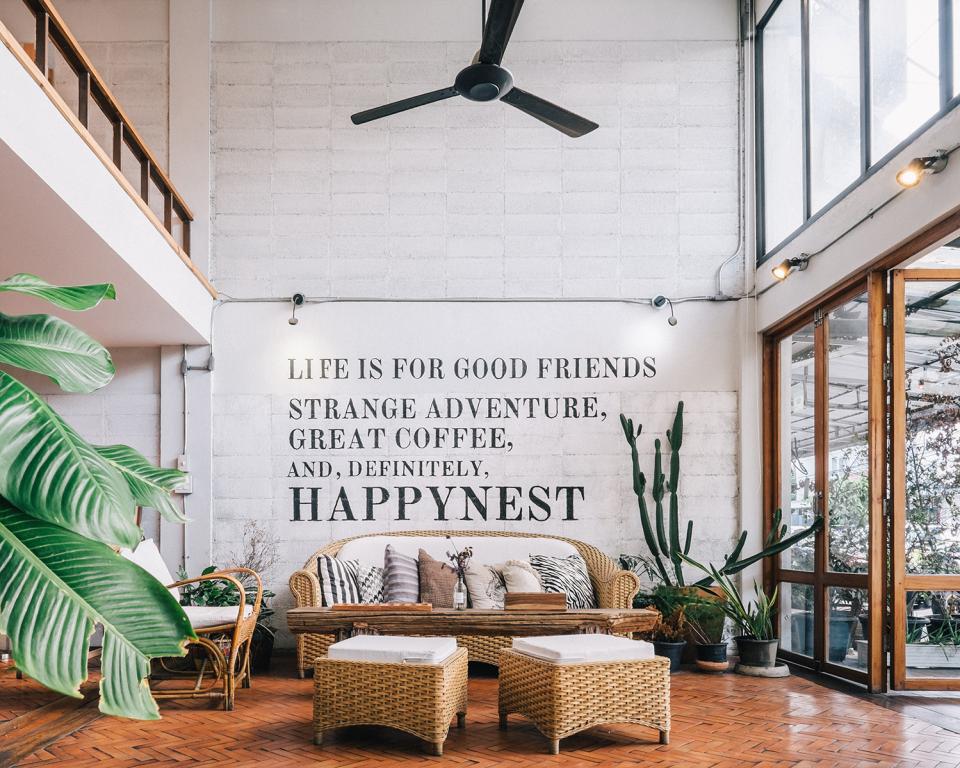 Happynest Hostel in Chiang Rai, Thailand
How to find the right hostel
In my other post on finding the best hotels, I mentioned that I use Booking.com as a search engine. This tool simply has the best filters so it will ease the search. The same method can be used for finding the right hostel. After setting the location and dates I continue with the settings in the left sidebar. When searching for a hostel I use the following settings:
8+ review score
Hostels
Show only available options
If there are still too many hostels left after this first search, I'll narrow it down and play with:
Room facilities
Facilities
District
If there is a huge difference in pricing, I'll set a maximum price or list it with the lowest price first. Then I open the map view, so you'll see it as below.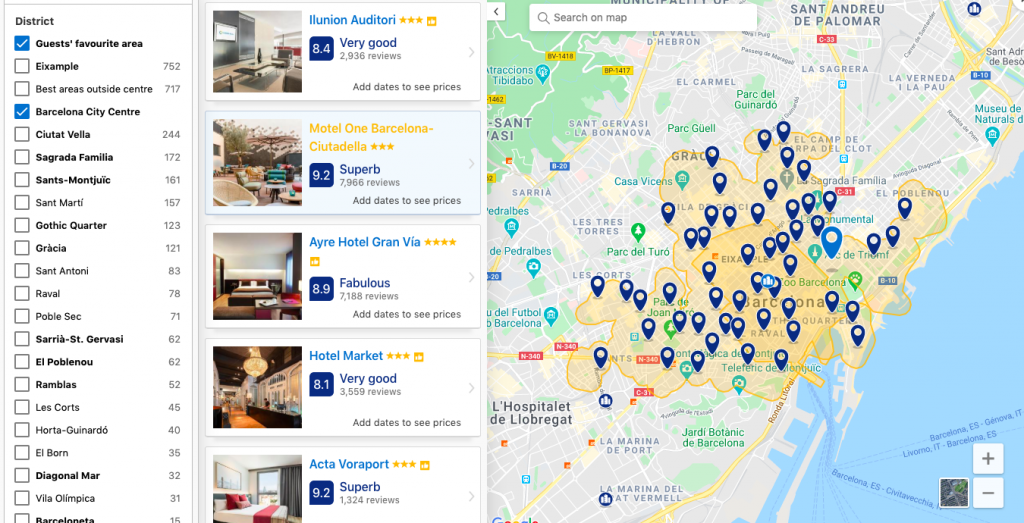 Then I simply start opening hostels in another tab that are in my favourite area, within my price range and which look appealing to me.
Choosing the right hostel
Now, there are a few things you want to take into account when choosing the right hostel and room. In this case, I'm assuming you're looking for a dorm room instead of a private room. If you look for a private room, just keep an eye on the bathroom. Is it shared or ensuite?
Keep in mind when choosing a hostel:
Room type
Bed type
Female or mixed
Common rooms
1. Room type
First, check out the room types by scrolling through the general photos and the photos specific to the room types. How big is the room? Are the rooms similar to each other, despite the number of beds? Do they have ensuite bathrooms? Are there other facilities in the room, like seating areas or extra washing sinks?
You don't want to be in a tiny room with many people. This is almost inevitable in some places in Asia. If you are forced to choose a smaller dorm room, then make sure you have enough bed space (= personal space).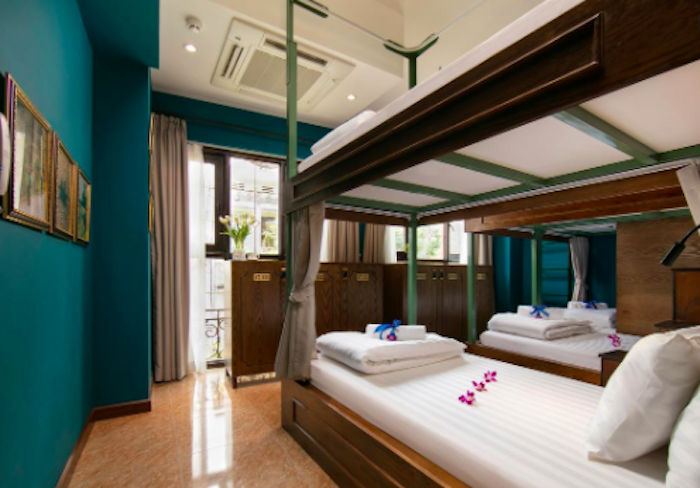 Little Charm Hanoi Hostel in Vietnam
Most new hostels will have enough space in the room though. I always check out the various types of rooms and consider space. If I can, I will always choose a room with not too many people. Most dorm rooms have a maximum of 10 or 12 persons. This can be a bit busy. I often choose 4- or 6-bed dorms. Depending on the bed types I would consider 8- or 10-bed dorms.
2. Bed type
What I mean with bed types has to do with the personal space. Some beds are these traditional open bunk beds, and everyone can see you sleeping. The modern hostels have semi-closed bunk beds with curtains or even have sleeping pods.
Sleeping pods are like sleeping capsules and ensure more privacy than a bunk bed. I've slept in these pods when I was in Dublin and in Singapore.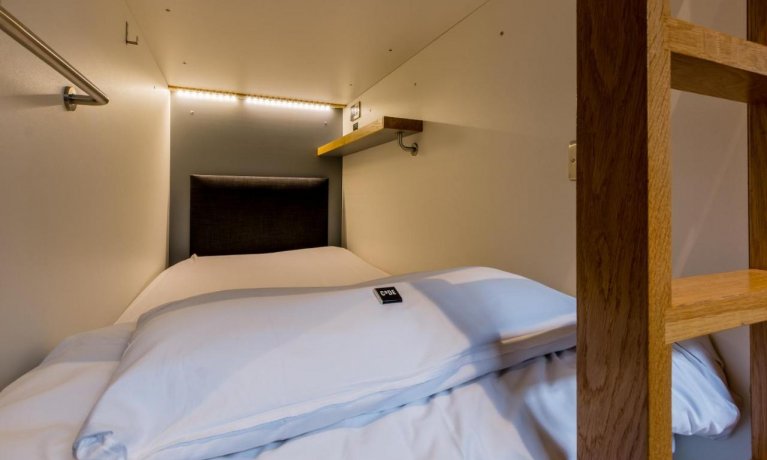 Then I check the bed facilities, like is there a shelf and reading light for each bed and is there a personal power socket?
If I'm not able to book a bed with more privacy, or I like another hostel better (I think location and sometimes the common areas are more important), then I use my sarong as a curtain. I don't need people watching me while I sleep. It's creepy.
3. Female or mixed
Third, and very important factor to consider: do you want to stay in a female or a mixed dorm room? Some hostels also have male-only dorms. If I can I always stay in a female dorm. Why? Women don't smell as much and don't make as much sound like men. Sorry, not sorry.
That being said, if it's a sleeping pod I might consider a mixed dorm as well. The pod will keep me from hearing all the snoring and keep away funny smells at the same time.
PS. Always bring earplugs anyway. Some hostels even have them for free, like Kex Hostel in Iceland.
4. Common rooms
I love the common rooms, that's if the hostel has proper common rooms. You can immediately see if a hostel makes an effort. Look for cosy seating areas, games or a pool table, and if the hostel organises activities. Hostels that organise activities are usually the right ones. When I travel I sometimes want to sit outside the dorm room and work on my laptop or read a book. Enough comfortable seating areas are a must. Also, when I travel alone, the common rooms are a place to easily meet other people. So, also a must.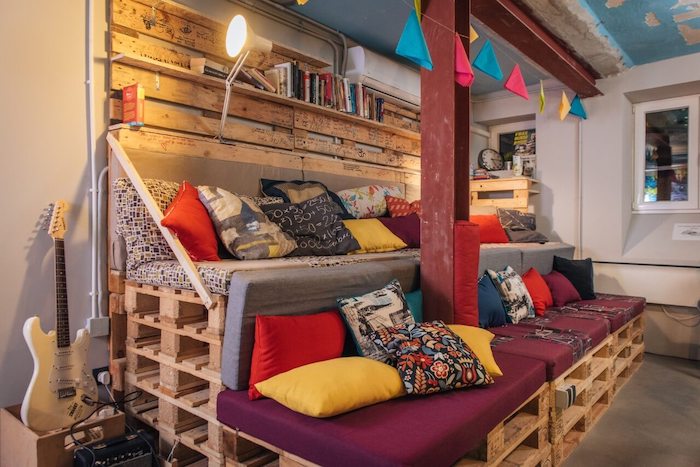 Swanky Mint Hostel in Zagreb, Croatia
On a personal note, the reason why I love hostels is that you meet people so easily. Even if you're shy. There's always someone who will ask if you're up for having lunch together or to hang out. Most likely someone who's in the same dorm with you. In the common areas, it's very normal to ask if you can join people who are playing a game. I've never had to spend time alone if I didn't want to!
♥ – Dani
More travel & adventure inspiration:
facebook.com/cocodeewanderlust
pinterest.com/cocodeestyle
instagram.com/cocodeewanderlust
Follow my blog with Bloglovin