To me, there are so many reasons why you should stay in a hostel while travelling. If you want to travel on a budget, you might want to consider staying in one. I've noticed that hostels still have a bad image amongst many travellers. All I can say is that this image is very outdated. Nowadays most hostels have a boutique look. It is even possible to get a private room, like in a hotel!
5 reasons to stay in a hostel:
Save money on your trip
Private rooms are available
Experience the community vibe
The easiest way to meet people
Hostels are Instagram-proof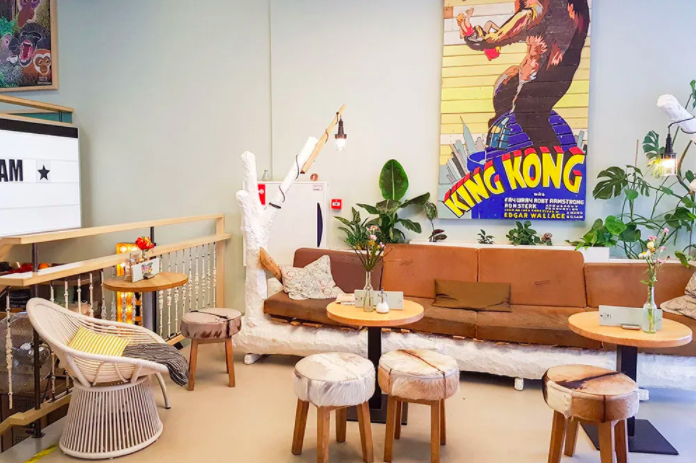 It's fun to stay in a hostel
I'm a frequent traveller for 15 years now, and on most of my trips, I've stayed in hostels. One of them was even on a 19th-century ship! Besides the 5 reasons listed below, most hostels are just so much fun. They often take more effort to connect with their residents than "normal" hotels do. But before I get deeper into that, check out the 5 reasons why it's fun to stay in a hostel:
1. Save money on your trip by staying in a hostel
The first and most important reason is that it saves you loads of money. In Europe, the price per night varies from 7 euro in cheap countries, like Poland, to 25 euro in more expensive countries, like in Scandinavia.
These prices are based on a bed in a shared room. The more people in a shared room, the lower the price. Obvious, if you choose for more privacy, the price will be higher.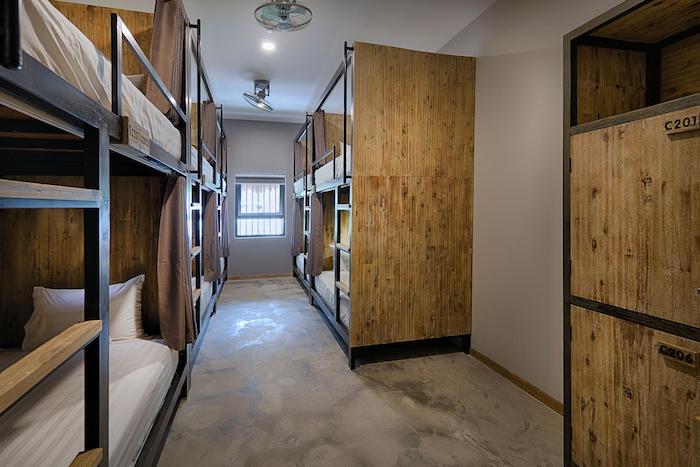 9 Station Hostel in Phu Quoc, Vietnam
Overall, if you choose the right hostel and room, sleeping with other travellers in the same room doesn't have to bother you. Check out my tips & tricks for finding a hostel to find out why!
2. Private rooms are available
Even if you don't feel like sleeping in a shared room, most hostels have private rooms available. Make sure to check if the private rooms have an ensuite bathroom or not because these rooms differ in price too.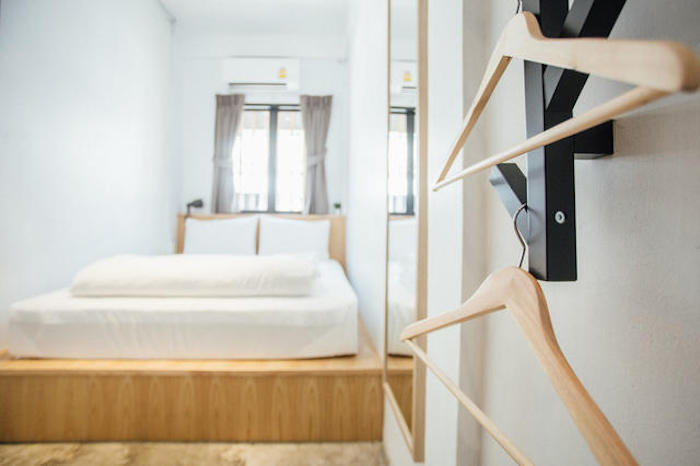 Mellow Fellow Hostel in Bangkok
In cheaper countries, a private room would be an excellent solution if you want the privacy of a hotel room, but don't want to spend too much. However, I wouldn't recommend it when staying in expensive countries like Norway, Denmark and Sweden. In my experience, a room in a budget hotel is cheaper than a private room in a hostel. In these countries, I would advise you to take a good look between options and even check out Airbnb.
3. Experience the community vibe
The fun thing about hostels is that they have a community vibe. The common rooms are inviting to everyone and you easily end up chatting with another traveller. Hostels have a shared kitchen and dining area. Often different travellers end up cooking together.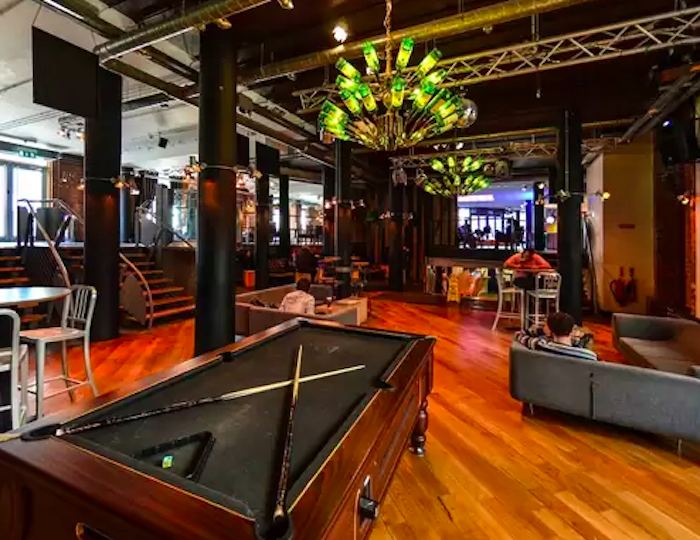 Other common areas almost every hostel has are a lounge with games, books and a tv, a garden, rooftop or terrace area and a bar. It really doesn't matter where you take place, even if you are shy, someone will start a conversation with you.
Personally I always take a few games with me which are easy to explain. Walking into a common area with one of my games will instantly attract a group of people who are interested in playing.
4. The easiest way to meet people
By the way, that last little tip is one of the easiest ways to meet new people. Another way is to join an organised event like a movie night or a pub crawl. Hostels organise several events, sometimes every day, to entertain their residents. Most people who stay in a hostel are often alone and looking to meet others. Signing up for a hostel event is the best way to meet like-minded people. Also great if you're a bit shy.
5. Most hostels are Instagram-proof
Like I mentioned in the beginning, most (new) hostels have a boutique look. Often the interior is taken to the next level, with amazing wall art, neon signs, industrial-looking rooms or other cool creations. Especially the 'newer' hostels are Instagram-proof!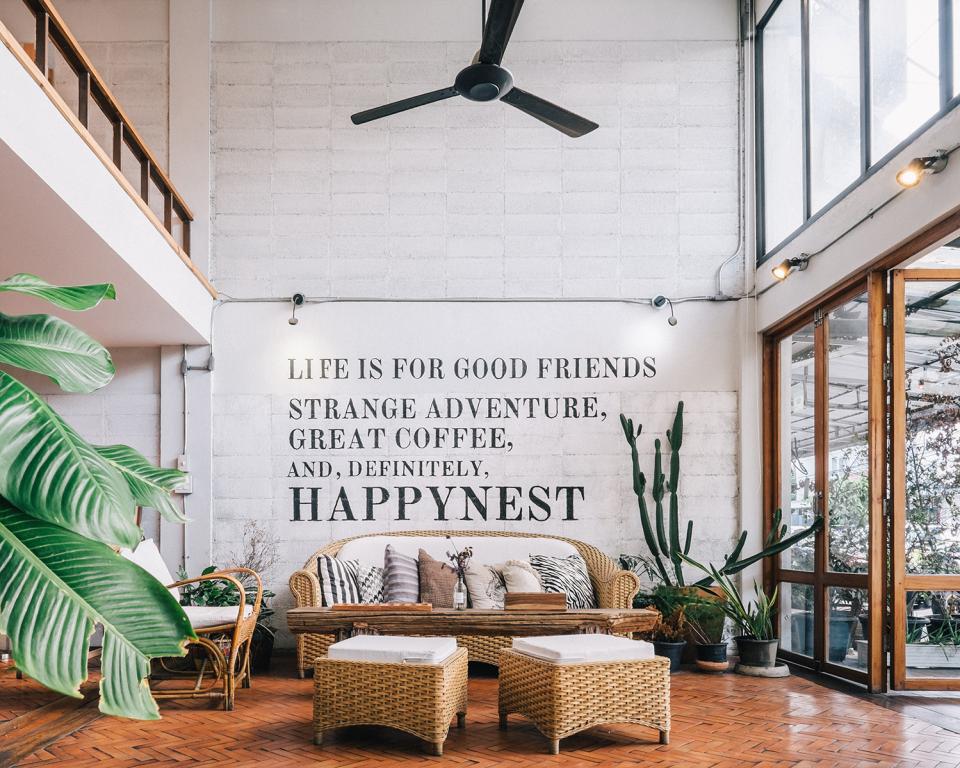 Happynest Hostel in Chiang Rai, Thailand
Obviously there are a few things to look out for when searching for a hostel. I've written a separate blog post on tips & tricks when finding a hostel based on my 10+ year experience. Check out the tips & tricks here!
♥ – Dani
More travel & adventure inspiration:
facebook.com/cocodeewanderlust
pinterest.com/cocodeestyle
instagram.com/cocodeewanderlust
Follow my blog with Bloglovin
Disclosure: Please note that some of the links are affiliate links. At no additional cost to you, I earn a commission if you make a purchase using these links. If you have any questions, please don't hesitate to email me.