In this blog, you will find some of the most unique accommodations in the Netherlands. Why don't you make your stay in the Netherlands interesting by sleeping high up in a crane, or on the water, in a train or aeroplane, or even stay in a wine barrel? Now I've got your attention, huh?
Unique hotels in the Netherlands
In this list, I've added some of my favourite unique accommodations in the Netherlands. When I worked as a travel consultant, I went crazy when finding another of these amazing stays. The list is a mixture of hotels and hostels, and sometimes even something that's in between.
Thinking of going on a trip to the Netherlands? Make sure to check out my local travel guide!
Hotel de Watertoren in Dordrecht
Hotel de Watertoren in Dordrecht
Photo credits: VVV Dordrecht
Hotel de Watertoren (water tower) is housed in a classical water tower on the edge of the city Dordrecht. This hotel and restaurant use biological and local products and sustainability is integrated throughout the tower. I love the rural area and with only a bike ride away, you can explore the largest freshwater tidal zone in Europe, the Biesbosch.
rural surroundings
close to the largest fresh water tidal zone in Europe: Biesbosch
Rotterdam 30 minutes away
I've written a separate post on the countryside of the Netherlands. Check it out if you like a more off-beaten guide.
Farmhouse: Erfgoed Bossem in Lattrop
Erfgoed Bossem is absolutely one of my favourite places to stay in the Netherlands. I love staying on a farmhouse because it reminds me of when I was little and my family and I went visiting friends on a huge farmhouse in Germany.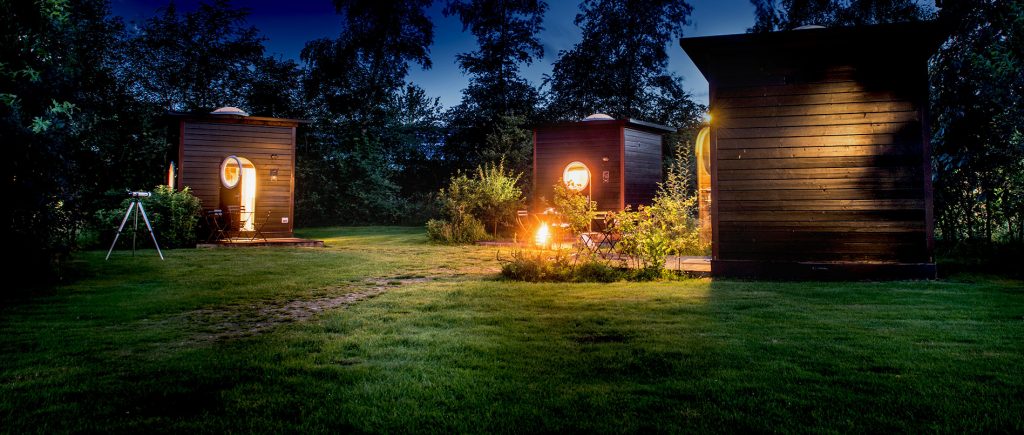 Erfgoed Bossem in Lattrop
Photo credits: Erfgoed Bossem
Erfgoed Bossem has friendly owners, who will make you feel welcome. They have this farm to table thing going on, so make sure to make a dinner reservation. You can stay in one of the rooms in the farmhouse (some rooms include a steam room) or, my favourite, stay in a Sterrenkubus (Star cube). The Sterrenkubus is a separate tiny house with a dome above your bed, so you can look at the stars. You can add a telescope and a campfire package to your reservation as well!
farm to table experience
optional: tiny house with roof dome
optional: rooms including steam room
Do you love sleeping on a farm like me? Then I think you can appreciate farmhouse In de Hei. It's located in Mariahout, a rural area in the South of the Netherlands. Huge bonus: They offer walks with their alpacas!
Cruise: SS Rotterdam
SS Rotterdam
Photo credits: City Rotterdam
The SS Rotterdam is a former ship of the Holland America Cruise Line. Staying in one of the authentic 50s style cabins is a unique experience. On top of that, you'll be staying in the second-largest city in the Netherlands.
Read more on Rotterdam in my other blogpost City guide: Local tips & hotspots.
If you like ships as much as I do, check out the Maritime Museum in Rotterdam. Learn everything about what the sea means to the Netherlands. You can get tickets here!
Train Lodge in Amsterdam
Train Lodge in Amsterdam
Photo credits: Hostel jobs
I passed the Train Lodge every day when I went to work. Train Lodge is a hostel with shared and private rooms right next to Amsterdam Sloterdijk Station. Only a few minutes from Central Station. The sleeping carriages were used on the route Zurich to Rome until just a few years ago.
original train carriages
lively & colourful hostel
Not really sure if you want to stay in a hostel? Read more about hostel life here!
Houseboat Drijfpaleis in Arnhem

Drijfpaleis in Arnhem
Photo credits: Drijfpaleis
Now, this is one of the most unique accommodations in the Netherlands, for a real Dutch experience. Sleeping on a houseboat is so much fun. I really wish I had a houseboat, but this is unfortunately still just a dream. There is something soothing about sleeping on the water.
Drijfpaleis (floating palace) is a one of a kind houseboat where Alice in Wonderland meets Arabian Nights. The houseboat is colourful and welcoming. Ashore they have a garden with mosaic artwork and a swing.
every room has a record player
private terrace
vegetarian breakfast (vegan also possible)
two house cats aboard named Hendrik & Frankie
Staying in Amsterdam and looking for a houseboat? Check out these two favourites: Houseboat Prince William & Houseboat Prince Arthur & Prince Royal B&B. Both highly rated and in the city centre of Amsterdam. Unique experience guaranteed!
Crane hotels in Amsterdam & 's-Hertogenbosch
Crane Hotel Faralda is located in Amsterdam North and has three split-level suites at 35m, 40m and 45m high. It has a heated hot tub on the upper deck and you can order a Prosecco breakfast in bed.
Crane Hotel Faralda
Photo credits: specialhotels.nl
De Bossche Kraan is new to be opened crane hotel in 's-Hertogenbosch, a charming small city in the South. It just has a single room 12 meters above canal the Dieze. They offer extras like a bottle of Cava, a fill-my-fridge package or a private boat. However, the absolute best thing is the panorama view of the city while rotating the crane yourself! I repeat: rotating the crane yourself!
Interested in smaller cities like 's-Hertogenbosch? Find out more about the beautiful, picturesque cities in the Netherlands.
Hotel De Vrouwe van Stavoren
Hotel De Vrouwe van Stavoren
Photo credits: origineelovernachten.nl
De Vrouwe van Stavoren (the lady of Stavoren) has the ideal location near the water of the IJsselmeer (Lake IJssel). Stavoren is a small town which is over 2300 years old. The old harbour is filled with authentic sailing boats and this place is perfect for a rural stay including sailing and hiking.
Stay in one of the wine barrels at De Vrouwe van Stavoren to add a uniqueness to your trip. Some of the barrels have a terrace, balcony or sauna. Make sure to ask about the legend of the lady of Stavoren while you're here!
water surroundings
sauna & wellness facilities
Aeroplane Suite Teuge
Vliegtuig Suite Teuge
Photo credits: Vliegtuig Suite Teuge
Last year I gave my brother a flying lesson for his birthday. Of course, I flew as well. This all happened at the small airport of Teuge, which is used for recreative flying only. At this very same airport, you can sleep in the Aeroplane Suite! Truly one of the most unique accommodations in the Netherlands. This luxury suite is available for two persons and has a sauna and wellness. The cockpit is still fully equipped and the whole plane is yours during your stay!
luxurious stay
breakfast in bed
optional: book a flying lesson
You can also stay in one of the famous Piet Blom cube houses in Rotterdam!
Do you want to know how to find the best hotels? I've got a few tips and tricks written down for you. Check out my best-kept secrets!
Disclosure: This article contains affiliate links, so I earn a commission and I can keep doing what I'm doing. However, I'm supporting everything I write. You'll never pay extra using the links, you'll just help a girl out.
♥ – Dani
More travel & adventure inspiration:
facebook.com/cocodeewanderlust
pinterest.com/cocodeestyle
instagram.com/cocodeewanderlust
Follow my blog with Bloglovin