Thinking of white-sanded beaches? Palm trees and clear blue water? This time I'm not describing Bora Bora or the Maldives. It never crossed my mind, but paradise is closer to home than I thought. Another spontaneous decision led me to a job on the Spanish island Mallorca. Which is jaw-droppingly gorgeous!
Living on the island Mallorca, part of the Balearic Islands in the Mediterranean Sea, got me crossing the island every day when I was off from work. It is safe to say, this is one of the most beautiful places in Europe!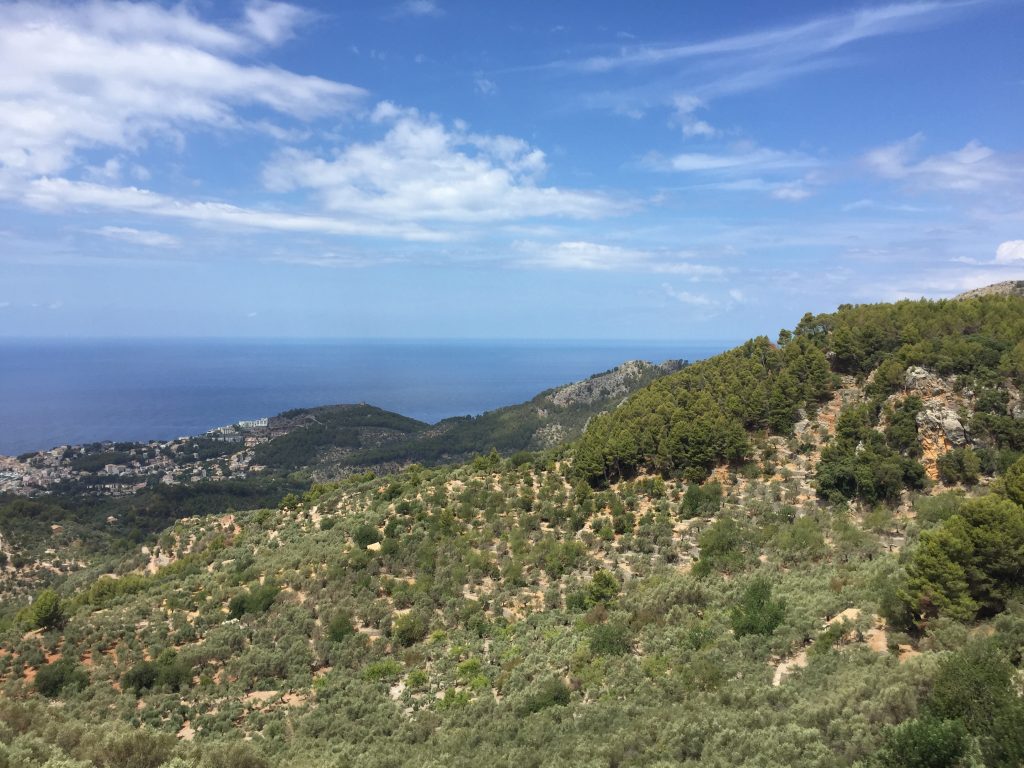 A One Day City Trip To Palma de Mallorca
Palma de Mallorca is the capital and largest city of the island. You can visit the island by ferry from mainland Spain or you can fly to Palma Airport (PMI). Palma has beautiful sights and is located near the beach. This place is perfect for a combination of sun and city trip. Here are my favourites in Palma de Mallorca:
Cathedral of Santa Maria of Palma, or La Seu, is Palma's Gothic Roman Cathedral has been built in 1229, but only finished in 1601. From the cathedral, you'll have a gorgeous view of the Parc de la Mar and the Mediterranean. It's all about the view, baby!
Mercat de l'Olivar is on the list of stops every time I go to Palma. This market hall has fresh products and offers freshly made dishes. You can taste whatever you like. My favourites are the oysters and sparkling wine, different cheeses, cold cuts and typical Mallorquin food. Open Monday to Thursday 07.00 – 14.30 | Friday 07.00 – 20.00 | Saturday 07.00 – 15.00 | Sunday closed.
The Old City of Palma is a maze of small streets, with great architecture and hints of Arabic influences. Get lost in the streets and make your discoveries here.
Palau March is the home of magnificent work of Auguste Rodin, Henry Moore and Salvador Dalí, amongst others. The collection is located in the Palau March palace, with sculptures on its patio. Opened from 10.00 until 14.00 | From April to October until 18.30.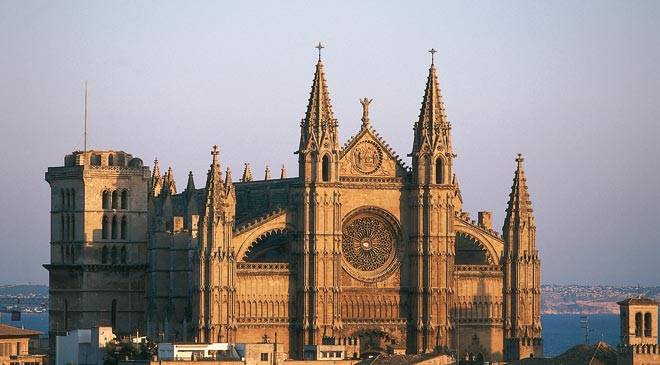 The Best Sights of The Island
I liked to cross the island in my rental car and stop wherever I want to. That is how I did all of my discoveries. Of course, you can Google that shit too, it's only so much more fun to explore it yourself. For everyone who doesn't have the time to figure this out along the way, here are the best highlights of the island:
When I was on my way from Palma de Mallorca to Sóller I had to choose between the tunnel and the mountains. To explain a bit, in the Northwest of Mallorca, there's a mountain area called Sierra de Tramuntana (On the UNESCO World Heritage list since 2011). To get there, you can either go through the tunnel, which will take you less time, or you can choose to drive the mountain roads. Guess what I did. It is so much more fun and you'll have amazing views!
Speaking of amazing views. Find your way to the Northern tip of the island, to Cap de Formentor. Mountain roads, cliffs, rocky surroundings, gorgeous views and a lighthouse is what you will find. And it is worth it!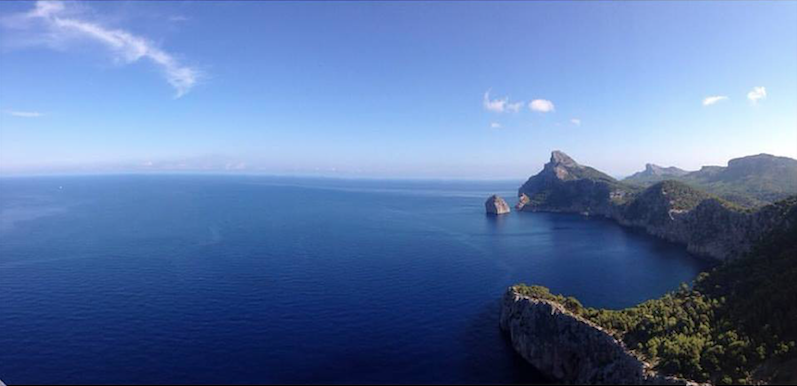 From the beach of Sa Calobra, you can enter the walking tunnel through the rocks of the mountains to Torrent de Pareis. Ending up at a 3 kilometres ravine, from where you can hike to the village Escorça. This is only possible during summer months and recommended only to experienced hikers.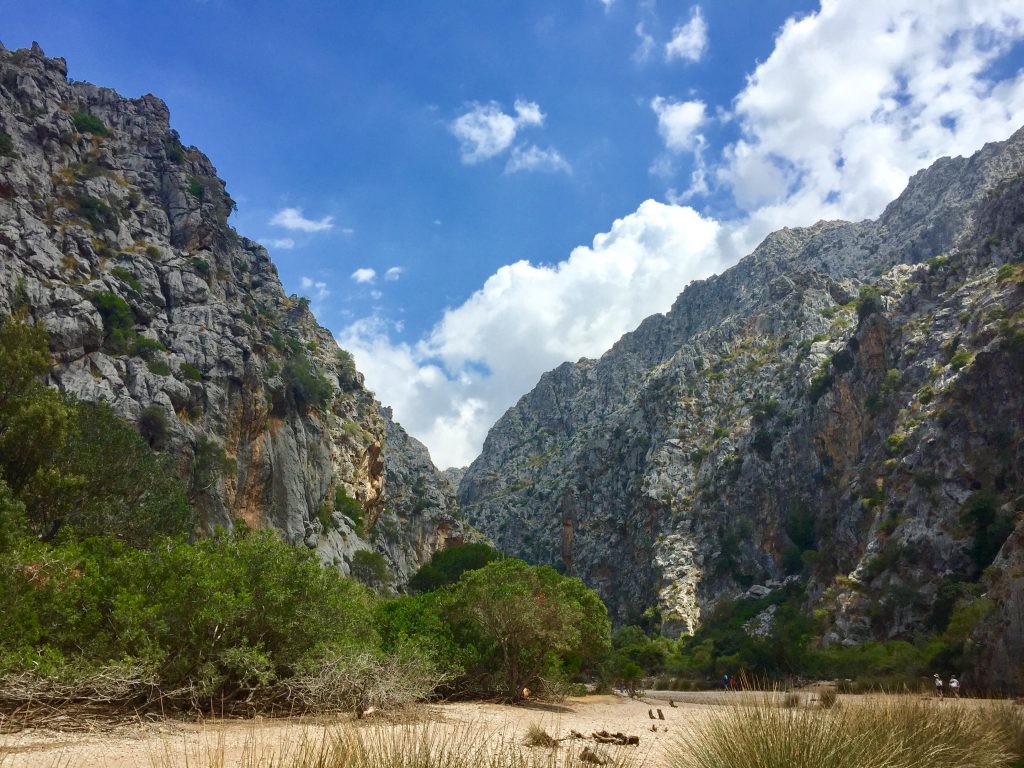 One day, instead of renting a car, I rented a bicycle. What can I say, I am still Dutch. I went for a 50+ kilometre ride and I ended up in Santanyí. A little further away from the beach, I found the Es Pontàs. A natural rock formation, 200 metres of the coast, shaped like a bridge. Not many tourists come here, 'cause you can only get here by bicycle or foot. My butt was hurting like no tomorrow but just look at it. Isn't it gorgeous?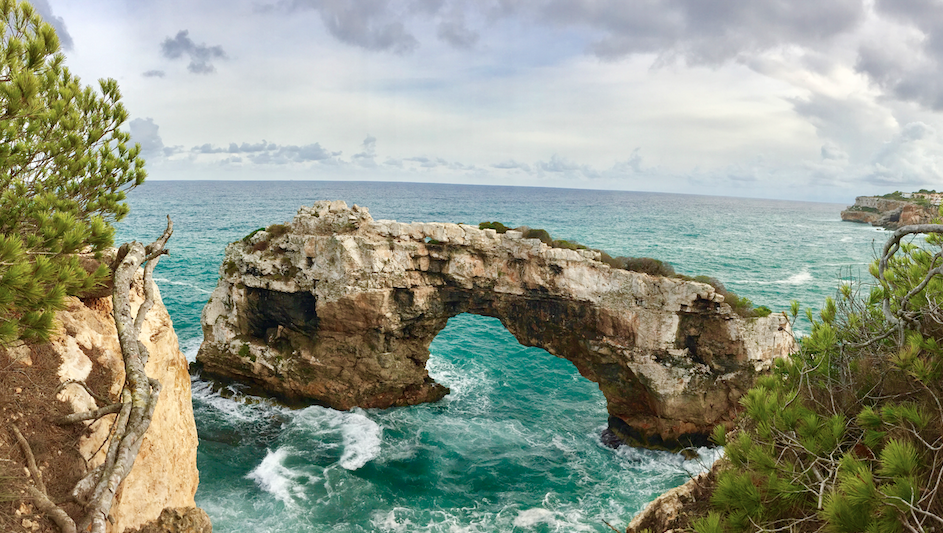 The Coolest Things To Do On The Island
There so many awesome things you can do on Mallorca. Besides the obvious things like renting a car or a boat, or doing all these watersport activities, I've found a few other cool activities.
Straight to the top of this list is kayaking from Port de Sóller along the coast. With a group of 6 to 8, you can rent kayaks with a guide and explore the island from a different point of view. The guide shows the cool hidden spots, like caves you can only reach from the water. By the way, this is not for pussies. I was exhausted afterwards!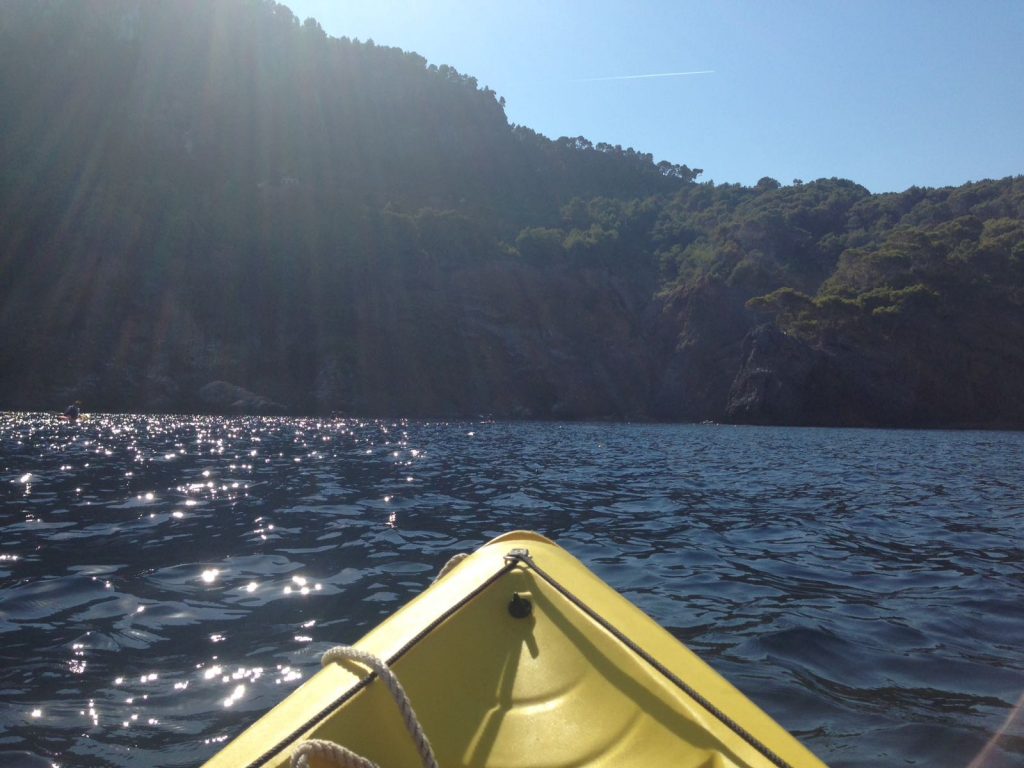 In October there's a well-hidden Food Truck Festival held at Port Adriano. One of Mallorca's best kept secrets in the jet-set port of Mallorca. Check out my blog post about the festival here.
Each Thursday, there's a huge outdoor market in the streets of Inca. And they have everything! The market takes over Inca and you'll find everything from fresh products to clothing.
This one is a bit more touristy thing to do, but awesome if you have a lazy day or you're with kids. This so-called Ferrocarril de Sóller used to transport fruit and dates from 1912. Now you can take this open train to go for a 27-kilometre ride from Palma to Sóller. The train takes you through the Sierra de Tramuntana and the valley of Sóller, known for its orange trees. Once you get to Sóller station, allow yourself to look around. 'Cause your standing in a 17th Century palace and therefore one of the oldest train stations in the world. Careful in high season though, it tends to be crowded.
Cities You Can't Miss
One of my absolute favourite towns of Mallorca is Valldemossa. This adorable, cobblestone town has narrow streets and a fairytale vibe. Big pluses are the views and the boho shops of locals.
At the end of a day driving across the island, I like to finish my road trip to Port d'Andratx. I would just settle down at one of the beautiful terraces. And I would watch the sunset across the water while sipping my cocktail. All the terraces are on the waterfront and one of them even has a terrace on the water. You should have dinner there!
Last on my list of cities in the old town of Alcudia. The old town has a car-free zone and has this fairytale vibe, like Valldemossa. From the centre, you easily can walk to Alcudia beach which has plenty of nice terraces for a bit to eat or to have a drink.

How To Cross The Island Mallorca
It doesn't matter where you stay on the island because everything is within a few hours reach. If you're not staying in Palma, you can either rent a car (fair prices, but be careful in high season) or book a transfer at the airport. There are busses, only take into account they're not riding on a frequent base. For short distances, taxis are ok but could turn out expensive for longer distances.
However, I recommend renting a car. You'll be flexible in your day to day itinerary and you can go wherever. Besides, I love driving the country and mountain roads. It will get you awesome views!
Sleep
Also, check out 'The Best Beaches of Mallorca' and 'The 8 Best Restaurants of Mallorca', if you'd like to know more about this gorgeous Spanish island.
♥
---
Let's keep in touch? I'd like to know more about your adventures!
facebook.com/cocodeewanderlust
instagram.com/cocodeewanderlust
Pins For Pinterest