The local city guide Utrecht is for those who want to explore more of the Netherlands than just Amsterdam. Utrecht is only 30 minutes away and it a bustling city where you can easily spend a weekend. Some call this city mini-Amsterdam, but I don't think it gives Utrecht the credits it deserves. Why don't you check it out for yourself?
Local city guide Utrecht
My family and I actually come from this city, my Dutch family was born and raised here and my Indonesian family moved here from Java. Utrecht is still one of my favourite cities in the Netherlands. If you go beyond the cold shopping passage (the only thing I don't like) in Central Station, you enter the friendly and welcoming city centre.
In this local city guide Utrecht you can find:
Famous activities in Utrecht
Hidden gems
Favourite local hotspots
Best hotels to stay in Utrecht
Surrounding Utrecht
How to get there
See more of the Netherlands
Famous activities in Utrecht
Check out these unique things to do in Utrecht:
Climb the Domtoren (Dom Tower)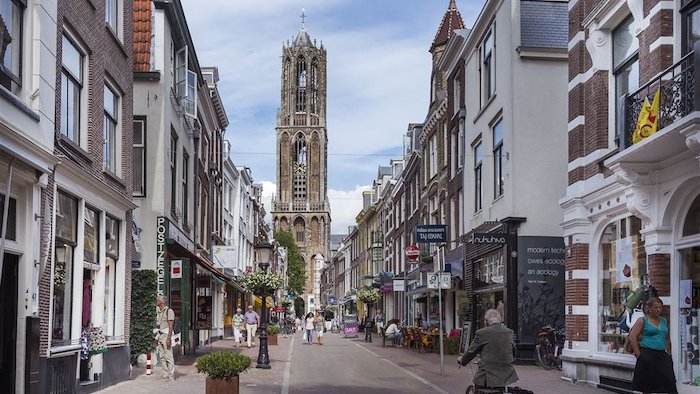 The Domtoren is the iconic eyecatcher in the middle of the city centre. With over 112 meters, it's the tallest church tower in the Netherlands and locals are super proud of it. Do a guided tour and visit the chapels. You can even climb up 465 steps to visit the tower. On a clear day, you can see Amsterdam and Rotterdam.
Visit the famous Rietveld Schröder House
Rietveld Schröder House is a UNESCO World Heritage site built-in 1924. This visionary and eccentric house is designed by Dutch architect Gerrit Rietveld for Mrs Truus Schröder-Schräder. They worked together designing the house since Mrs Schröder-Schräder had a very clear vision of what she wanted. The house is iconic for the Modern Movement in architecture.
See the art collection in Centraal Museum
In Centraal Museum you can find the largest Rietveld collection in the world. Permanent exhibits are the collections of Rietveld, Dick Bruna (creator of Miffy) and 'The oldest city collection of the Netherlands'. Temporary exhibits range from fashion to contemporary art to early surrealism.
Wander around the Botanical Gardens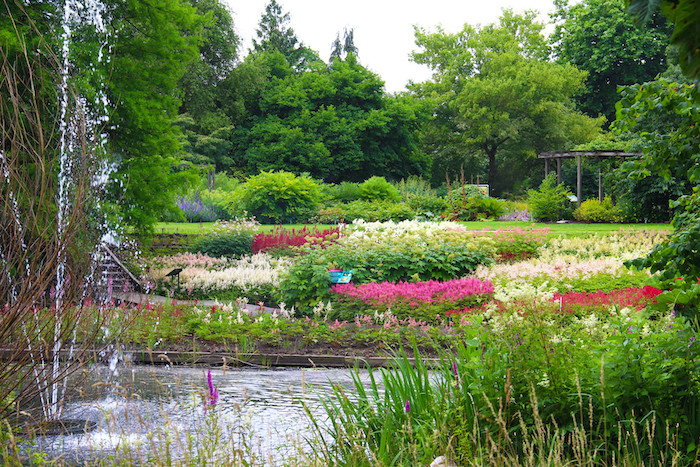 The Botanical Gardens are part of the Utrecht University and covers about 9 hectares of ground. From March to November you can visit these beautiful gardens. The best times to visit are in Spring when everything blossoms. Or in September/October to see the romantic Autumn colours. Get tickets for the Botanical Gardens here!
Other popular museums are the Railway Museum, National Military Museum and Museum Speelklok (music).
Hidden city gems
Besides the usual tourist attractions in Utrecht, the city has a lot more to offer. Find the hidden gems of Utrecht, some familiar, others a complete surprise:
Buy food at Vredenburg Market
Every Wednesday, Friday, and Saturday you can enjoy the Vredenburg Market. Wander around the stalls filled with fresh fruit, veggies, bread, fish, meat and nuts. Often there are samples available, so you can taste the Dutch food culture. Try some of our favourites like kibbeling (battered fish) or raw herring at the fish stall. Or the typical Dutch cheese or waffles.
Follow the light art trail: Trajectum Lumen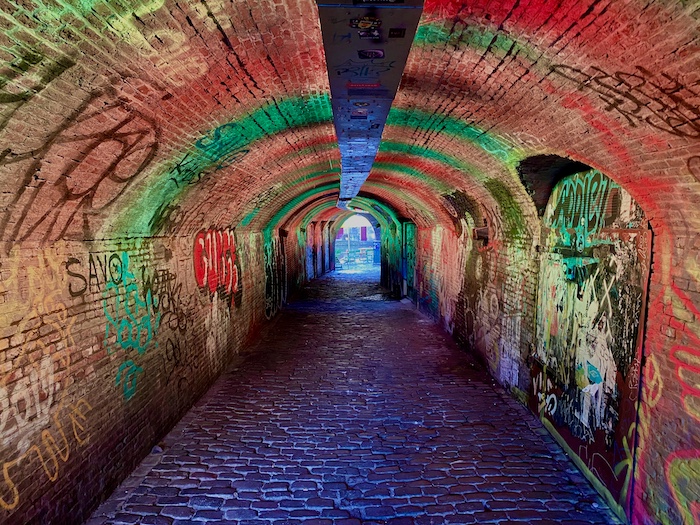 Join a local tour guide and follow the artistically exposed locations at night. Every Saturday evening from September to April you can join the Trajectum Lumen tour through the historic city centre. Learn about the gorgeous light art and the mysterious story of Luman.
Join a free guided tour
Utrecht Free Tours hosts tours every Tuesday, Wednesday, Saturday and Sunday at noon. Saturdays at 10:00 and Sundays at 14:00 they offer themed tours, like a Medival tour or a WWII tour. No registration needed, just show up at the square right next to the Dom Tower.
Go underground with DOMunder
With DOMunder you go underground and discover the history of Utrecht underneath the Dom square. Grab a flashlight and find over 2000 years of history, including the foundations of the Dom Tower and Roman archaeological finds.
Dance at a Tivoli concert
Tivoli Vredenburg is a music complex with 5 halls and hosts several musicians every week. Soul, rock, classical, you name it. There's something for everyone. Keep an eye on their calendar for more information.
Check out the old fortress: Fort aan de Klop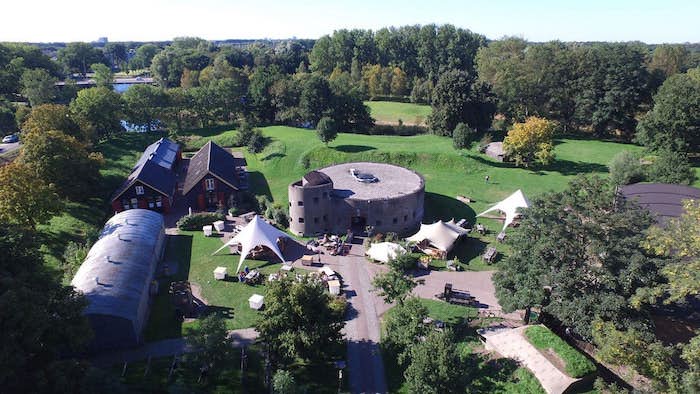 Photo credits: De Utrechtse Internet Courant
About 15 minutes cycling from the Dom Tower, you'll find Fort aan de Klop, a fortress built-in 1819. On the small island in the middle of nature, you can relax away from the city centre, have a drink or even camp out next to the fortress.
Hire a canoe
Speaking of relaxing. Hire a canoe from De Rijnstroom and follow the canals. You can have a picnic alongside the water or order traditional Dutch pancakes at the Rhijnauwen tea house.
Other cool options are canoeing by night when it's a full moon! Or do a multiple days tour in the rural area around Utrecht. I've never done this last one, but it's on my list now!
Favourite local hotspots
Check out my favourite hotspots in this local city guide Utrecht. Find restaurants with great food, nice bars and trendy shops.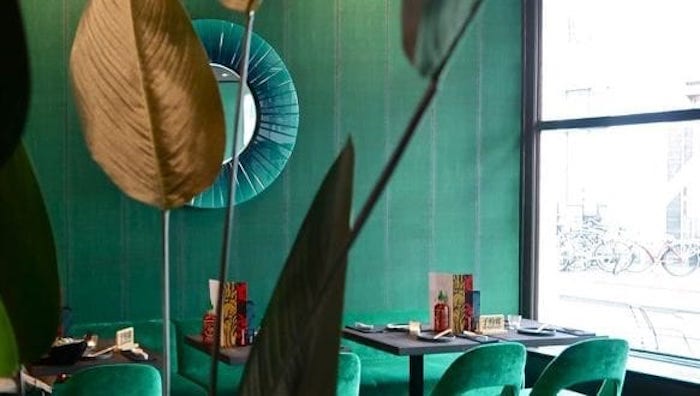 Photo credits: Tiger Mama
Voorstraat hotspots
The Voorstraat is very well known amongst locals. This popular street is bursting of cool shops and cosy cafes. My personal favourite hotspots are:
Food & drinks hotspots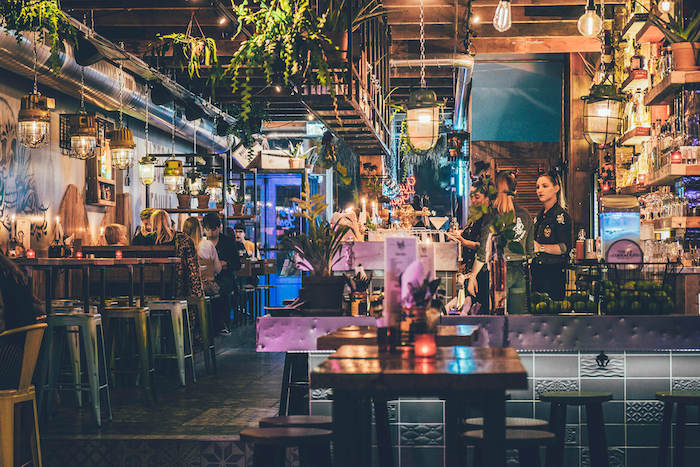 Photo credits: Lucy Lou
Breakfast and lunch:
KEEK is a lunchroom and bakery who uses bio ingredients to make delicious goodies.
Loua is a healthy juice bar in Utrecht. Get your freshly pressed juices and smoothies here. Or order a smoothie bowl for breakfast or lunch.
Late breakfast or early lunch? At Rabarber petit café you can have it all. Even a piece of the freshly baked pie for your sweet cravings.
Dinner and drinks:
Shopping hotspots
At the Pindakaaswinkel (peanut butter shop) you can get a million different peanut butters. Okay, a million is a bit much, but they have a lot! Try the chilli-lemongrass, caramel-sea salt or the coffee version.
If you haven't seen them on Vredenburg Market yet, get your ass to Waffel asap. I'm talking about the typical Dutch stroopwafels, the thin waffles with melted caramel in between. Waffle is a stroopwafel store that takes the Dutch goodie up a notch. Check out the ones with peanut butter & jelly, with rose petals or the savoury waffles.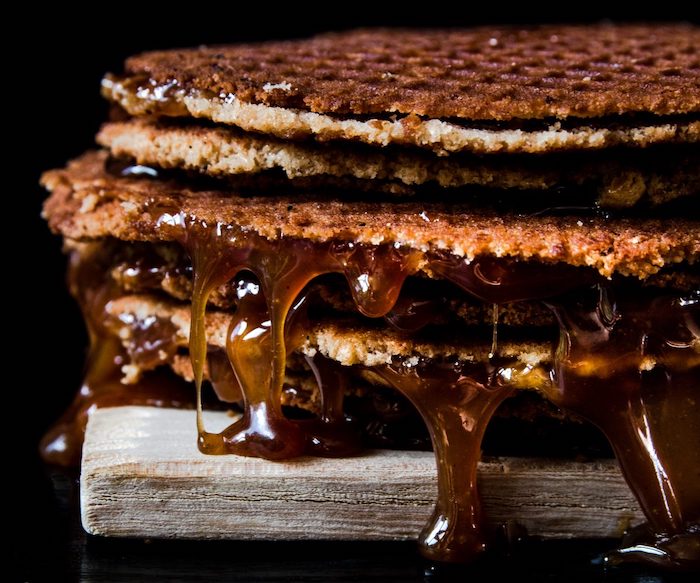 Photo credits: Waffle
Keck & Lisa is a concept store which I love and always get my presents. From books to interior items to games, you can find everything here. I like that some items are related to the city Utrecht. And you can find things here, you'll not find anywhere else.
Daen's is a concept store with fashion, a deli, coffee bar, hotel (Daen's Room One) and lunchroom. I love to make a stop here for lunch and have a look at their greenhouse.
Best hotels to stay in Utrecht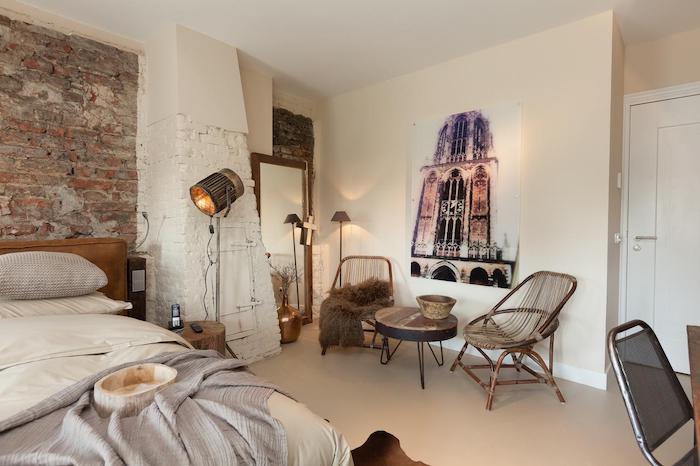 Mother Goose Hotel in Utrecht
Photo credits: booking.com
Surrounding Utrecht
The surrounding area of Utrecht is beautiful. Whenever I stayed with my grandparents (they also lived in Utrecht), they'd take me everywhere. Smaller cities like Amersfoort are worth a visit, but also the rural area around Utrecht.
Castellum Hoge Woerd is a modern interpretation of a fortress. The location is where the Romans once protected the borders. Discover archaeological finds here, see the city farm or wander around in nature. 15 minutes from Utrecht
The most beautiful and impressive castle in the area is Castle De Haar. This medieval castle is the largest and most luxurious one in the Netherlands. Not only the castle is impressive, but also the 55 hectares of land is worth a visit. And don't forget the maze! 25 minutes from Utrecht
Another beautiful sight is the Castle Kerckebosch. A smaller 120-year-old castle and the park. The castle is now a hotel, restaurant and wedding venue. 20 minutes from Utrecht
Castle Amerongen is a 17th-century castle with a rich family history. Join in on one of the guided tours or keep an eye on their agenda for festivals and activities. 30 minutes from Utrecht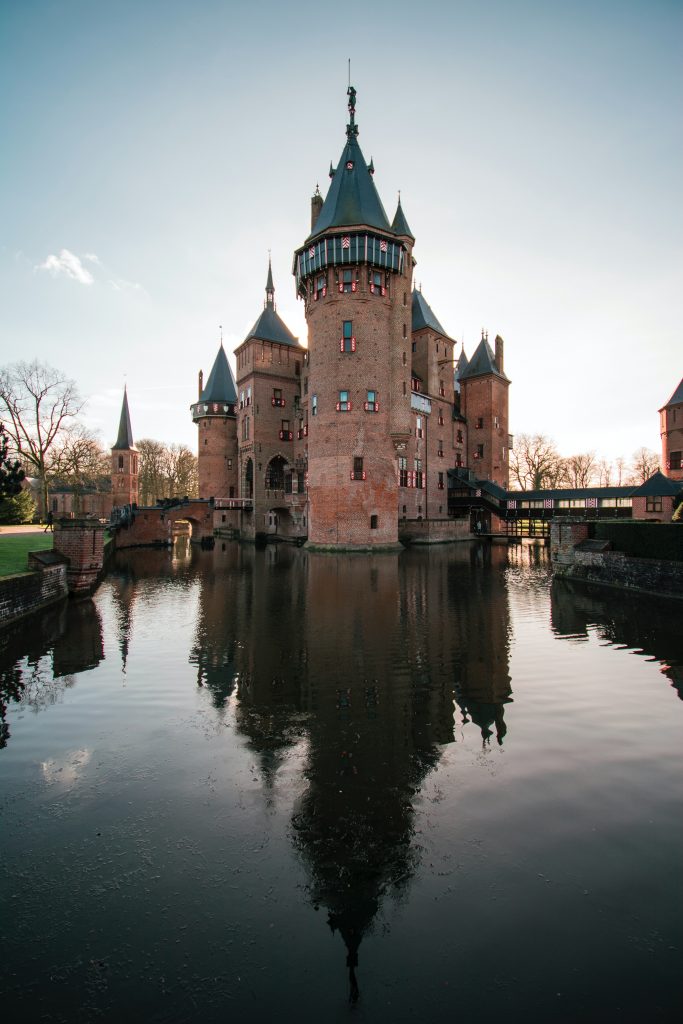 How to get there
There are two main airports in the Netherlands, Eindhoven Airport and Amsterdam Schiphol. Utrecht is only 30 minutes away by train from Amsterdam Schiphol. From Eindhoven Airport it's less convenient with a public transport trip of 1,5 hour.
Rent a bike if you want to explore more in Utrecht than just the city centre. Otherwise, the bus is also an option. Bus tickets are available on the bus or get an ov-chipcard for all public transport. It works the same as the Oyster card in London or the Opal card in Sydney.
See more of the Netherlands
Utrecht is right in the middle of the Netherlands and is easily accessible by public transport. It's perfect to do a day trip from here to other Dutch cities:
Rotterdam – 40 minutes by train
's-Hertogenbosch – 30 minutes by train
Breda – 40 minutes by train
Amsterdam – 30 minutes by train
This local city guide Utrecht gives just a glimpse of what there is to do in Utrecht. Especially in Summer, there's something to do every week. In case you want to explore more Dutch cities, read my post on small cities in the Netherlands. Or check out my local city guide 's-Hertogenbosch!
♥ – Dani
Disclosure: This article contains affiliate links, so I can earn a commission and can keep doing what I'm doing. However, I'm supporting everything I write. You'll never pay extra using the links, you'll just help a girl out.
More travel & adventure inspiration:
facebook.com/cocodeewanderlust
pinterest.com/cocodeestyle
instagram.com/cocodeewanderlust
Follow my blog with Bloglovin