This city guide 's-Hertogenbosch is written for everyone who wants to see a different place than the usual Amsterdam and Rotterdam. The last decade I've spent more years abroad than in the Netherlands. But once I got back and hosted friends here, I came to appreciate what was right under my nose.
Local city guide 's-Hertogenbosch
I have an apartment in 's-Hertogenbosch for about ten years now, of which I've been here for maybe five. Once I came back I also started writing for the local city blog called Den Bosch City Blog, with Den Bosch being the nickname for 's-Hertogenbosch. This city has so much to offer and I love hanging out with my friends in the city. In this local city guide 's-Hertogenbosch, I'll tell you all about my favourites!
Your 's-Hertogenbosch to do list
Some things you just have to do, like when in Rome, you visit the Colosseum. The same goes for 's-Hertogenbosch. Well, we don't have a Colosseum, but there are plenty of things to do here, that you maybe can't find anywhere else.
Visit the St. John's Cathedral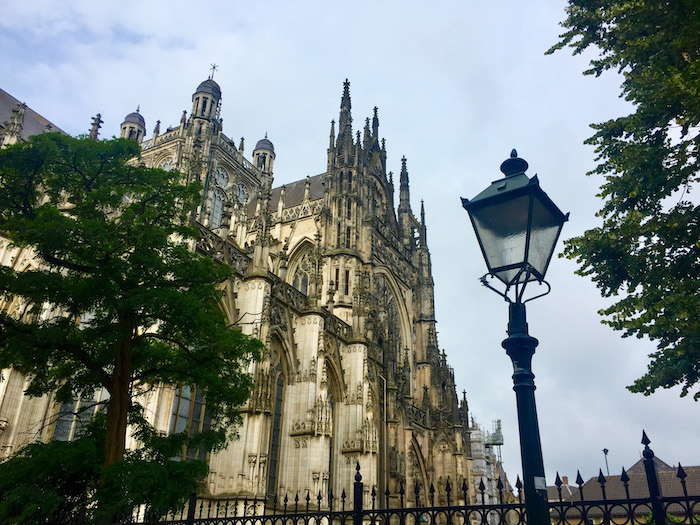 This city guide 's-Hertogenbosch cannot go without St. John's Cathedral (St. Janskathedraal), our cities pride. Locals affectionally call the cathedral the Sint-Jan. This impressive building has a gothic style architecture. The cathedral has beautiful arches and large windows. It is free to enter, as it's still used as a place for prayers. However, it's possible to do a guided tour and even go up and climb the tower! Amazing views guaranteed!
Do a boat tour on the canals
Amsterdam is not the only city with canals. The Netherlands and water are inseparably linked together and the country has excellent water management. In most cities, you can find canals, which are so famously in Amsterdam.
From April until October you can do a boat tour around the river Binnendieze. Discover the history, architecture and culture on the river within the city walls.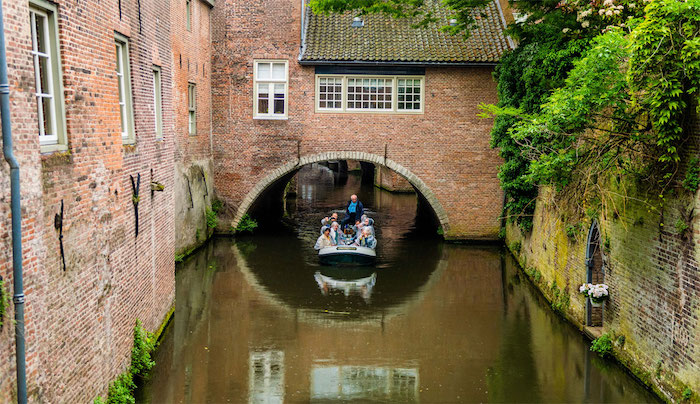 Visit the Museum Quarter
The Museum Quarter is with over 5000m2 one of the largest museums in the Netherlands. It consists of two museums under one roof, NoordBrabants Museum and Stedelijk Museum 's-Hertogenbosch. In the Museum Quarter, you can find everything from archaeology, to modern masters and contemporary art. See collections of Van Gogh or Jheronimus Bosch, the famous painter from 's-Hertogenbosch.
In Summer I love having lunch out here in the garden. The library, shop, garden and lunchroom are free to visit during opening hours.
More Jheronimus Bosch
Speaking of Jheronimus Bosch, masterpieces of this famous painter are displayed in the Jheronimus Bosch Art Center. The pieces are replicas at original size. You can also climb the tower of this old church.
Check out the Moriaan
According to some, this 13th-century building is the oldest brick house in the Netherlands. If it's actually true, I don't know, but it is the oldest one in 's-Hertogenbosch for sure. Now you're here anyway, the tourist information is in the Moriaan. Besides maps, they also sell delicious local goodies, which I mention in my other post: The Netherlands: 6 Reasons to visit 's-Hertogenbosch
Favourite local hotspots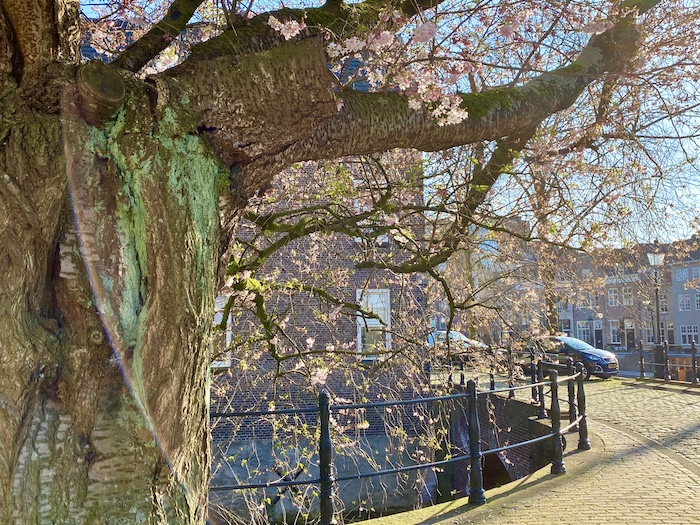 's-Hertogenbosch is divided into different areas. In this city guide 's-Hertogenbosch I mention some of my favourites below. In the middle of the city, you can find the market square (close the Moriaan). On Wednesdays and Saturdays there is a big market with clothes, produces, flowers and more. Every Friday from 09:00 to 13:00 there is a farmers' market with only biological products like cheese, bread and veggies.
Right next the St. John's Cathedral is a second large square called the Parade. On one side they have lovely cafes and terraces for drinks or food. Most of them offer the famous Bossche Bol here. This giant puff pastry is filled with whipped cream and covered in chocolate. The bakery Jan de Groot is the famous producer of these pastries and is located near Central Station. Expect long queues here. To avoid this, go to the Parade instead.
Minderbroedersplein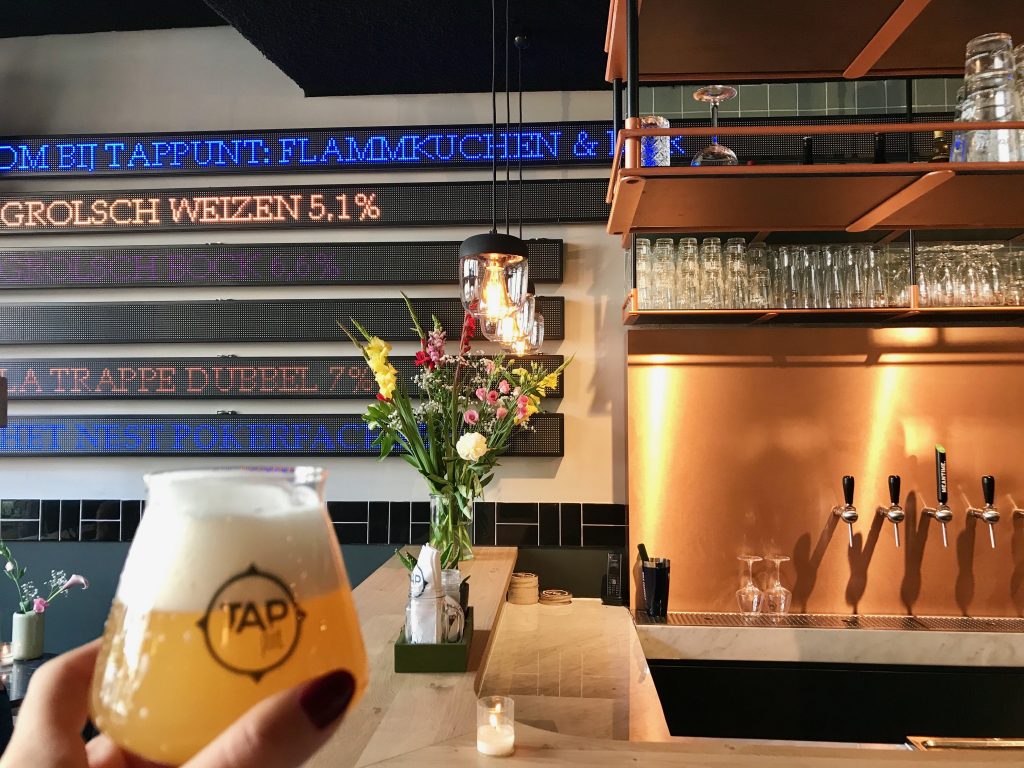 The Minderbroedersplein (Minderbroeders square) is a small and unique square in the city centre. Even though it's in the centre, it's super quiet here. The brothers Roels own the two restaurants with amazing terraces here. Tappunt has speciality beers on draft or bottle and a flammküchen menu. Left of Tappunt, you find M'EAT, a bar & grill restaurant. M'EAT grills with the Big Green Egg and is open for lunch and dinner. I love to sit at this square and enjoy beers with my friends.
Uilenburg
Another one of my favourite hangouts is the Uilenburg. This area is part of the city centre, close to Central Station. Uilenburg has adorable cobblestone streets, and if you walk further away from the cafes, deeper into the area, it shows an idyllic scene.
In the Lepelstraat, there is a range of cafes and eateries. I love going for a burger and beer at Bar35, or have a steak with peppercorn sauce at De Stip! PS. If you follow this street you'll get to the meeting point for the boat tour.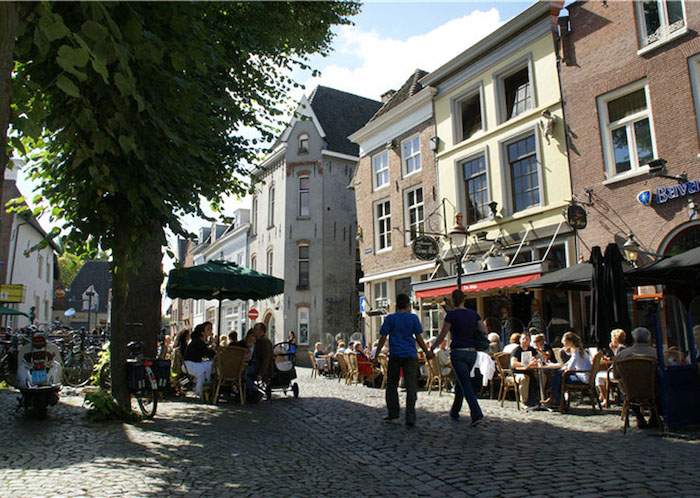 Turn to the left into the Korenbrugstraat for the cafes. Especially in Summer, the terraces seem not big enough and everyone is standing on the street. It gives this pleasant and welcoming atmosphere. At the end of this street, across on the corner, is my favourite cafe: Reinders. Whether you enjoy a drink in the afternoon or want to dance in the evening, Reinders is your place!
Korte Putstraat
Now, this is something else. The Korte Putstraat is almost famous in the Netherlands and it has won several awards for being the street with best terraces. IIn this street, there are 16 cafes and restaurants. Which is impressive considering the length and width of this street. In season you can barely walk side to side through this street because the terraces so expended. Once you've seen it, you will barely believe I lived in this street for 4 years.
In the Korte Putstraat, you can't go wrong! There is something for everyone. My personal favourites are 't Pantoffeltje for drinks and Le Meridien, Breton and Lokaal 1650 for food. Try the Beeftortilla at Breton!
Tramkade
The Tramkade is not getting the credit it should. This "new" area used to be industrial and is now home to some cool restaurants and initiatives. Tramkade is not in the city centre, but close, and lies along the train tracks.
You can find cool street art in this area (check out nr. 3 where to look). Also, check out Barkade for Asian comfort food and old school arcade games, Restaurant Van Aken who work with pop-up chefs or the Bossche Brouwers, a local brewery.
Restaurant hotspots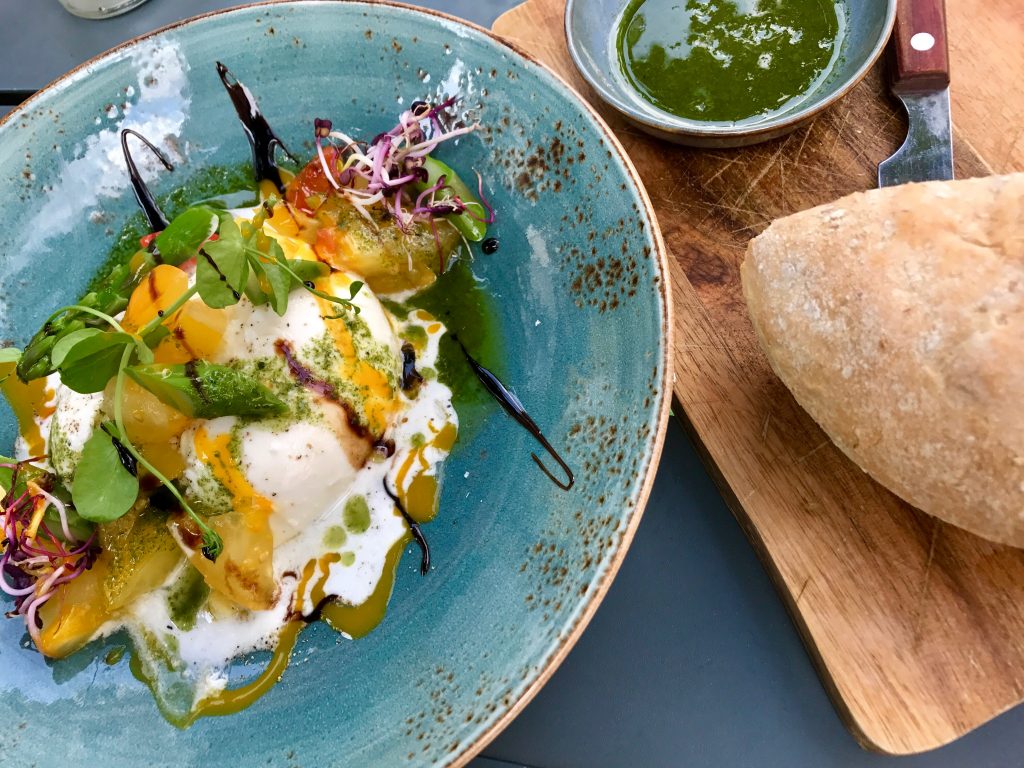 Then, the restaurant hotspots I haven't mentioned yet in this city guide 's-Hertogenbosch:
Nom Nom is definitely a favourite hangout of my friends and me. It's actually owned by my bestie's stepbrother. They have a daily changing menu written on the wall, inside and outside. If it's sold out, they just cross it off the menu. That's what happens if you work with fresh produce. Nom Nom has a laidback vibe which you notice immediately upon arrival.
Walk from the Uilenburg towards the Minderbroedersplein and you'll see the pointy terrace somewhere in the middle. PS. Also check out their little sister next door for take away goodies: Fifty Fifty
FF Swanjee has a view of St. John's Cathedral from their terrace and window seats. They offer worldly tapas dishes called wapazz. In addition, they have a grill bar in the restaurant where you can eat while the chef is grilling the meat. In my experience, it doesn't matter what you order, it's all good.
Fabuleux is for a more fancy night out in 's-Hertogenbosch. Once I went with my friends for our annual December-dinner. We got 5 or 6 courses with wine pairings and everything. I have nothing but praise for this place.
The restaurant has a beautiful large window looking out on the Verwersstraat, parallel to the Korte Putstraat and in the same street as the museums.
Frenchie Café is an Instagram-worthy cafe with carrot cake bowls, red velvet pancakes and mermaid cupcakes. Do I need to say more?
Pizzabar Deeg makes fresh pizzas and pastas according to authentic Italian recipes. For the pizzas, you can choose between normal, wheat or spelt dough.
Deeg can be found in the Verwersstraat, around the corner of the Korte Putstraat.
De IJsvogel is very well known amongst locals. This family business serves artisanal vanilla ice cream since 1933. If you see a long queue, you know you're in the right place. Definitely try the ice cream, but they also make ice coffee with it which is my favourite. Since a few years, they also serve lunch. In that case, try the sandwich with mama's homemade crab salad.
Walk from the market square towards St. John's Cathedral to find De IJsvogel in the Kerkstraat (Church street).
Café Herman is just outside the city centre, but worth a visit. It's located in an old water tower. At Herman, they serve breakfast, lunch and diner. But, the real magic is on the roof. For 50 euro you can order the bubbles with a view, a 2-person package with sparkling wine and snacks on the roof of the water tower.
Shopping hotspots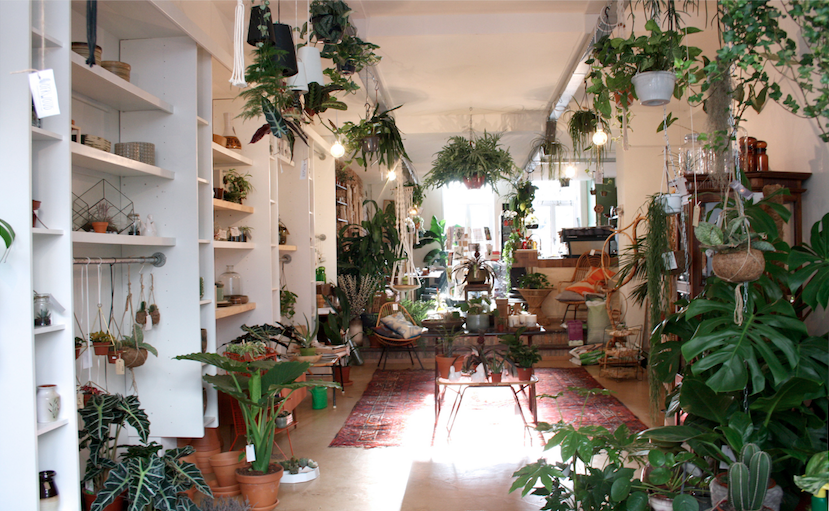 I am not the typical shopping fan, because I rather go sightseeing, sailing, hiking, you name it. But, I do appreciate cool shops that are a little more surprising than your average store. And 's-Hertogenbosch has enough of those!
Oerwoud has a plant store in the front and a vegan health cafe in the back. Once you enter, it feels like you stepped into a jungle! You instantly want to turn your own home into an urban jungle as well. At the vegan health cafe, they serve delicious and IG-worthy smoothie bowls, sweets and juices.
Wanderwood is also a concept store with clothes, interior items and plants. But they focus only on sustainable products. They sell beautiful interior items from all over the world.
In my other post I've mentioned a few more, but also just wander around to see for yourself. There are too many to mention and it's fun to discover them yourself.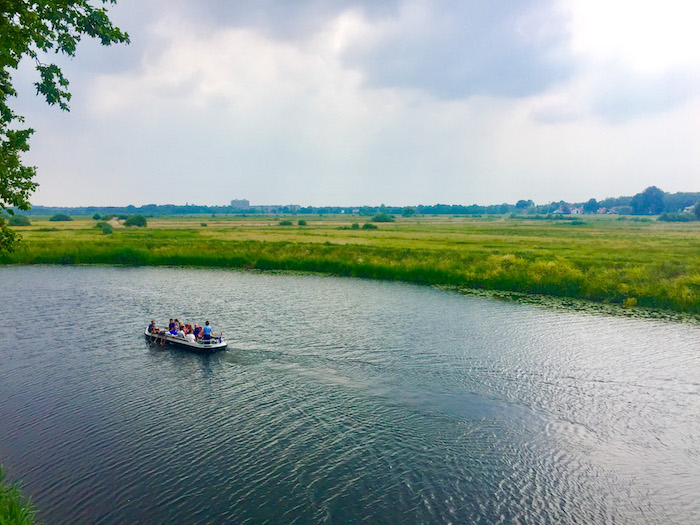 Top hotels to stay in 's-Hertogenbosch
's-Hertogenbosch has many lovely, highly-rated accommodations. All of the hotels mentioned below are in the city centre or within walking distance.
Slapen bij Achter de Kan is a Bed&Breakfast with the friendly host Lucienne. The B&B has beautiful rooms and a rooftop terrace overlooking the rural area adjacent to the centre, the Bossche Broek.
Boutique Hotel Nieuw Uilenburg lies in a quiet part of the Uilenburg, only a short walk away from the cafes and restaurants. The 4 available rooms are stylishly decorated with each something unique.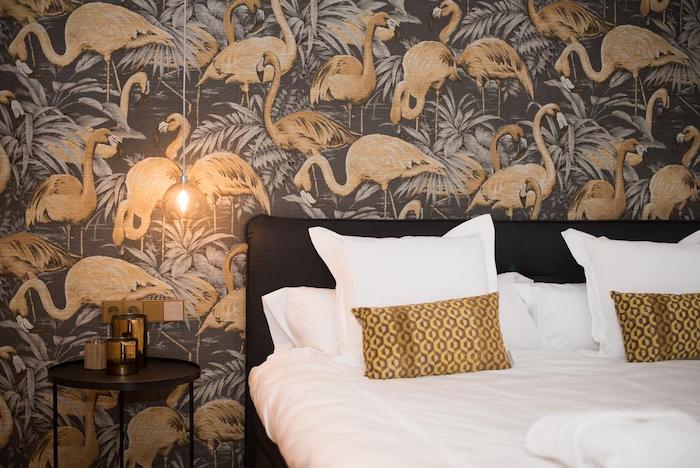 Hotel 't Keershuys in 's-Hertogenbosch
Photo credits: booking.com
How to get there
The two main airports in the Netherlands are Amsterdam Schiphol or Eindhoven Airport. Only budget airlines like Ryanair, Wizzair and Transavia fly to and from Eindhoven Aiport.
By car, it's about an hour drive from Amsterdam Schiphol to 's-Hertogenbosch, and a half-hour from Eindhoven Airport. Using public transport is possible from both airports. It will take you an hour though. Even from Eindhoven, because you need to first take the bus, then the train. As from Amsterdam Schiphol, there's an easy direct train going every 15 minutes. I would not recommend taking a taxi or Uber, 'cause this will cost you.
Get public transport tickets at the designated machines available at every station or airport. Also, check my local guide on the Netherlands on how to get around.
Once you're in 's-Hertogenbosch, it's easy to get around. Everything is within walking distance, or take the bus if you need to go a little further. Bus tickets are available in the bus.
More of the Netherlands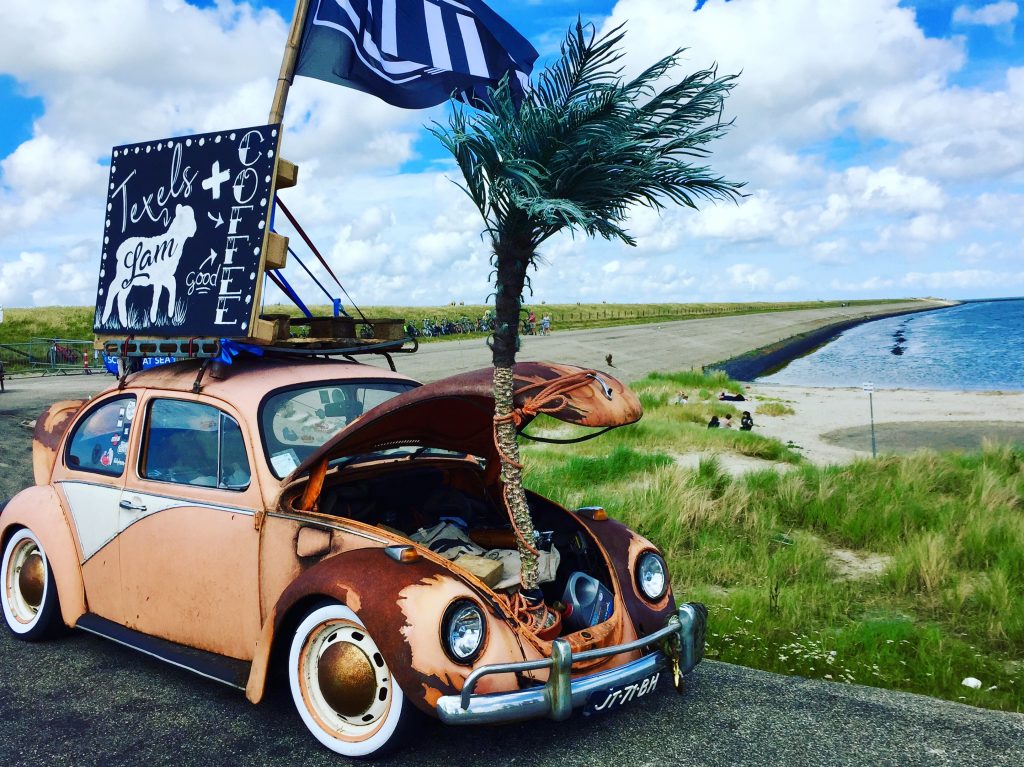 Like I said at the beginning, the Netherlands has so much more to offer than we all think. I rediscovered this country because I had to come back home and through my foreign friends who I hosted.
Recently I fell in love again with the Dutch Wadden Islands and I also went out discovering other small cities in the Netherlands. I am an expert in finding cute accommodations abroad and I figured, why not do the same in my own country?
This city guide 's-Hertogenbosch is written from my own experiences and preferences. For sure I've left a few hotspots out or forgot to mention something. But I'll make it up to you by writing a separate blog post soon! For now, peace out!
♥ – Dani
Disclosure: This article contains affiliate links, so I can earn a commission and can keep doing what I'm doing. However, I'm supporting everything I write. You'll never pay extra using the links, you'll just help a girl out.
More travel & adventure inspiration:
facebook.com/cocodeewanderlust
pinterest.com/cocodeestyle
instagram.com/cocodeewanderlust
Follow my blog with Bloglovin
Pinterest pins