The best hotels to stay in the city centre of Rotterdam are not only well-located but also very modern and fun to stay! Rotterdam has an eye for modern design and you can see this in the hotel interiors.
How to find the best hotels in the city centre of Rotterdam
One of the advantages of my travel addiction is that I'm always searching for new travel routes, cheap airfares and the best hotels to stay, preferably, in the city centre. Rotterdam has a wide selection of nice-looking hotels with high standards in hygiene and service. How do you choose the best hotel to stay in the city centre of Rotterdam?
I've selected my favourite hotels in Rotterdam for you below. But do you want to know how to search for the best hotels yourself? Check out my hotel search guide here!
The James Rotterdam – 9,1 rating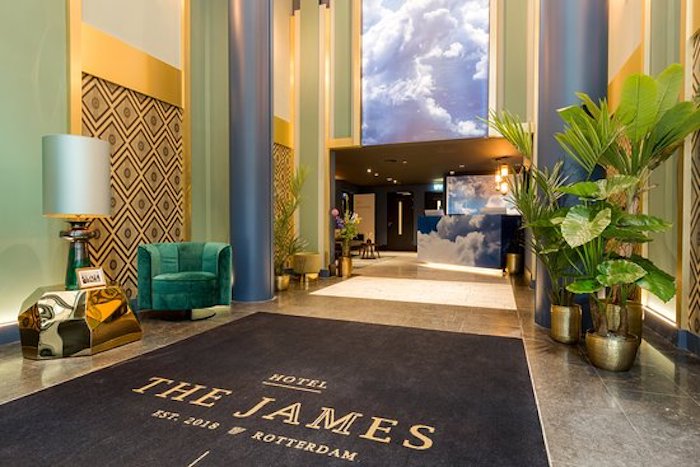 The James Rotterdam
Photo credits: The James
The James in Rotterdam is a fairly new 3-star hotel in the city centre. The hotel has a modern design with pretty blue and green tones. The rooms all have kingsize beds (or twins upon request) and a beautiful walk-in rain shower. The superior double and junior suite have amazing city views from the room.
has a gym
offers cute deals including Prosecco and bikes
citizenM Rotterdam – 9,1 rating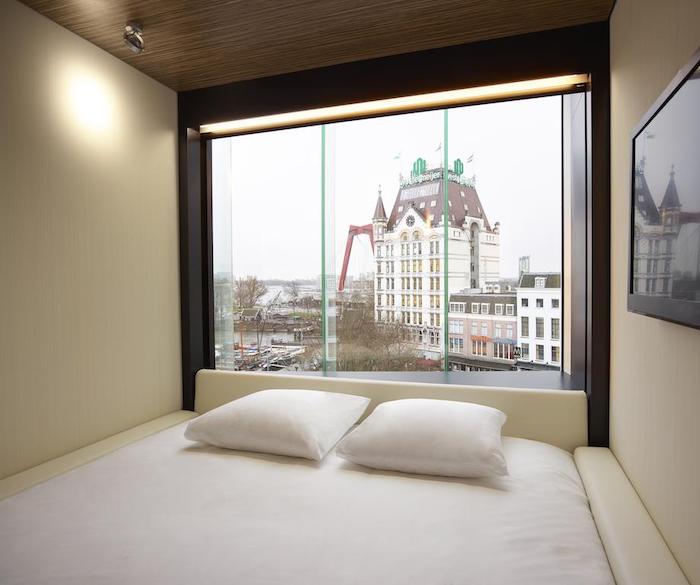 CitizenM Rotterdam
Photo credits: booking.com
CitizenM Rotterdam is located in the old harbour of Rotterdam. This is also one of the highly-rated design hotels here in the city. What I especially love about this hotel is that the rooms have wall-to-wall windows directly next to your bed. Let's be honest. Who doesn't want to have an amazing view from your bed?
free movies on demand
killer view from your bed
Supernova Hotel – 9,1 rating
Again an awesome, high-rated, design hotel, but the Supernova Hotel made sure the Rotterdam culture is integrated into the hotel. The rooms all have something unique, like a balcony or a record player.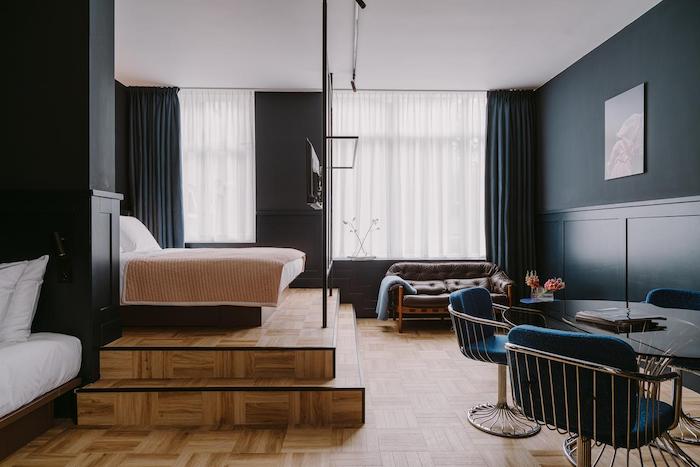 Supernova Hotel
Photo credits: booking.com
In their shop called Superette, they sell snacks and souvenirs. All these products are made by their favourite designers from Rotterdam.
free bikes
has a garden
3- and 4-person rooms available
offers a breakfast bag (fill out your preferences and hang the bag outside your door, find it filled with your favourite breakfast the next morning)
Room Mate Bruno – 9,0 rating
The reasons why I love Room Mate Bruno so much is 1. because of their amazing staff and 2. its location. The hotel is located on the Southside of the Erasmus bridge, at the Wilhelminakade, which is tucked in between waters. And the boutique hotel is housed inside a former tea warehouse of the Dutch East Indian Company.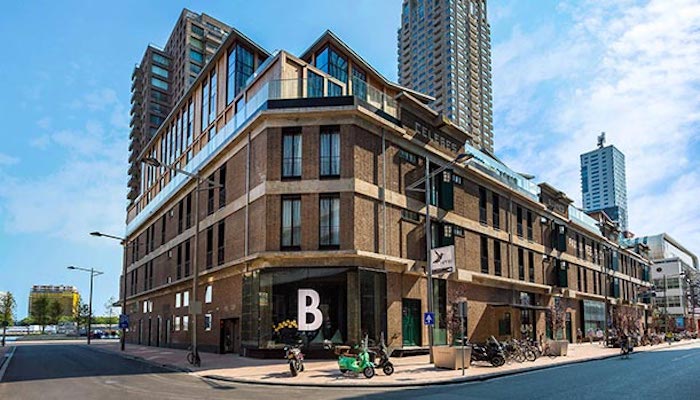 Room Mate Bruno Rotterdam
Photo credits: Room Mate Hotels
PS. If you let the staff know it's someone birthday or anniversary before check-in, they sometimes leave a cute little message on the mirror. Or you can order them a gift package which is between 12 and 20 euros.
offers celebration packages
fitness centre, sauna & massages
Mainport Design Hotel – 8,9 rating
This ridiculous luxurious hotel lies on the riverbank of the Maas and water appears to be the theme here, inside and outside. Mainport Design Hotel has numerous relaxing facilities like a whirlpool in every room, free access to Spa Heaven, with panorama Finnish sauna and more, and free access to the pool of Wellness Club H2O.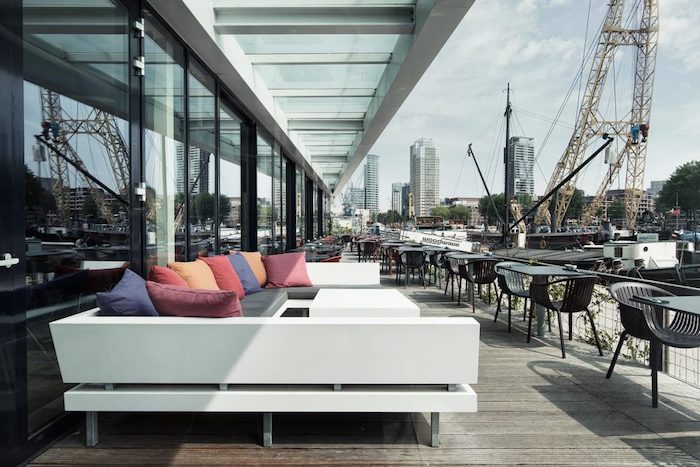 Mainport Design Hotel
Photo credits: Mainport
Outside you can enjoy at the waterfront terrace or take a water taxi from their private jetty.
nhow Rotterdam – 8,7 rating
nhow Rotterdam is located right next to Room Mate Bruno in a new building called The Rotterdam. Like I mentioned before I love this area, also known as 'Manhattan on the river Maas'. nhow Rotterdam is one of the two hotels in this list that have a Green Key, a global sustainability certificate.
Best hotels to stay in the city centre: Special mentions
Besides the beautiful hotels listed above, I have two special mentions for you, solely because of their uniqueness.
Hotel Bazar – 8,5 rating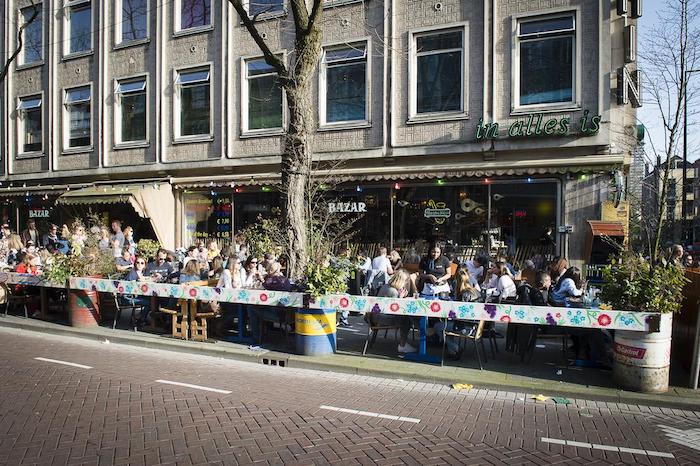 Restaurant & Hotel Bazar Rotterdam
Photo credits: booking.com
Hotel Bazar is located in one of the most fun streets of Rotterdam: Witte de With street. The rooms are comfortable and all have an Eastern, African or South American theme. Restaurant Bazar is on the ground floor and offers delicious international dishes.
Hotel SS Rotterdam – 8,5 rating
Now, this is a very unique hotel, because the SS Rotterdam is a former ship of the Holland America Cruise Line. The hotel and restaurants have a 50s style design. The ship is also open to visitors to do a tour around the ship. Or have a drink upon the open deck. But it's way better to stay in one of the authentic cabins, don't you think?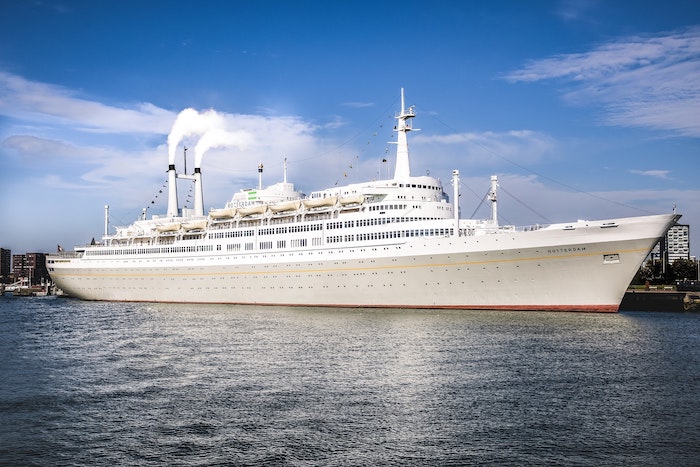 SS Rotterdam
Photo credits: rotterdam.info
Travelling on a budget
If you're a backpacker or travelling on a budget, you might want to consider sleeping in a hostel. Hostels still have a certain image, which isn't entirely correct anymore. Nowadays most hostels have turned into a fancy boutique looking hotel, only hostels have sharing rooms and facilities.
Check my post Hostels in Rotterdam: Save money on your trip here!
And even that isn't always the case. Some hostels have ensuite bathrooms and private rooms. So for a budget price, you can still have privacy without paying the prime price of a hotel.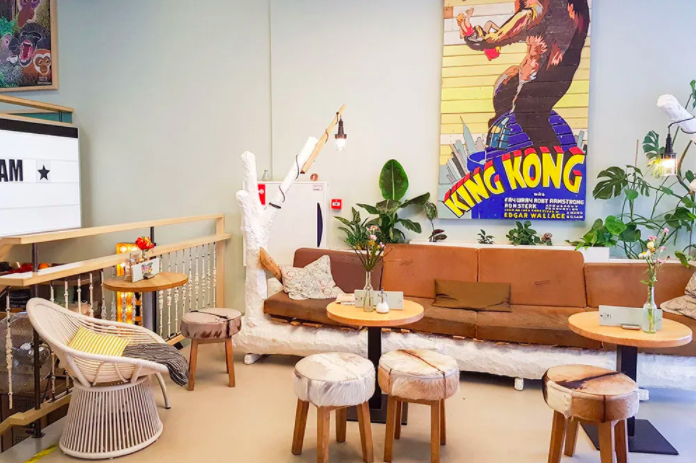 Want to know more about hostels and what to look out for? Check out my blog on Tips & tricks for finding the right hostel.
♥ – Dani
Disclosure: Ratings showed in the blog are based on the rating on Booking.com at the time of writing. These may change as guests leave more reviews. Please note that some of the links are affiliate links. At no additional cost to you, I earn a commission if you make a purchase using these links. If you have any questions, please don't hesitate to email me.
More travel & adventure inspiration:
facebook.com/cocodeewanderlust
pinterest.com/cocodeestyle
instagram.com/cocodeewanderlust
Follow my blog with Bloglovin