Every country or every region has its own quirky food habits. Nothing different about Portugal in this case. Portuguese are crazy about their food. From all the Portuguese I know, I cannot name one who isn't proud of their culture. So when I moved to Portugal for a brief period, I fell right with my nose into the Portuguese cuisine. Working together with locals, was a great way to get to know their culture. They made me eat and drink all sort of things, and of course, made me pronounce the dishes names. Which led to an outburst of laughter. Here are a few of the Portuguese food, you should definitely try!
Some of the Portuguese dishes alone are enough reason for me to return to this great country. Besides my dear friends there, goes without saying. Sometimes I try to make these things at home, but no luck. It is never the same, unfortunately. It is better for me to leave it up to the professionals.
1. Francesinha
When it comes to Portuguese food, this is one of my favourites. I am not even going to try to pronounce this anymore. My friends and colleagues had a good time laughing about it when I did. When I first tried this, was when I was working in a techno club in Portugal. We usually finished cleaning around 8 or 9 in the morning. Yeah, it is crazy, I know. After this, we always went out for breakfast at a bakery close by. But not this time, this time they invited me to come to breakfast, or rather brunch, 'cause this was around 40 minutes out of town. Why? Apparently, this place had the best Francesinha in the area!
Francesinha is originated in Porto, in the north of Portugal. It consists of toasted bread, melted cheese, ham, sausage, and steak. All build-up to sandwich that looks like a croque monsieur or toasty of some sort. Some say it is actually inspired on the French croque monsieur, but then taken to a whole new level. Building the sandwich is just the beginning of a good Francesinha. After that, they top it off with a fried egg and let the whole sandwich float, in what looks like a gravy. Mine did taste a bit like gravy, with a touch of tomato and sautéed onions. Apparently, this sauce is the secret of every restaurant.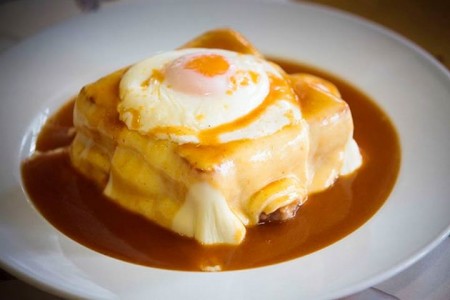 I don't recommend this for breakfast as I just said at the beginning of this story. Although to me it was more of an after-work-late-night-snack.
Do you want to see how they make this heart attack on a plate? Watch the YT video here. It is in Portuguese, but you'll understand. And it's funny!
2. Cataplana de Marisco
Next, we have the Cataplana de Marisco. Marisco means shellfish, and before I found out I was allergic to shrimps (real bummer), I loved this dish. This is a typical seafood stew from the south of Portugal, the Algarve. This stew is made in a traditional copper pan, also named Cataplana. Ingredients you can find in this typical dish are shrimps, clams, mussels, fish, chorizo, veggies, and potato. I often ate this in the afternoon, so I had enough energy for work of water sports.
3. Port wine
Okay, so it's not only about Portuguese food, but drinks as well. Port wine is a sweet fortified wine from the Douro Valley in the north of Portugal. Made in different styles and good company to chocolate or cheese. Or just on its own.
4. Frango Piri-Piri
This is absolutely one of my favourites. That is because I like spicy food. A lot. Frango is translated chicken. And Piri-Piri is made out of extremely hot peppers, often served in the form of oil. The sort of chilli they use for the Piri-Piri is traditional from America, brought to Africa by Portuguese seafarers. Here is where Piri-Piri was created and the Portuguese seafarers brought this back to their own country. The Frango Piri-Piri originated in Mozambique, but is so common in the Portuguese cuisine, that they made it their own.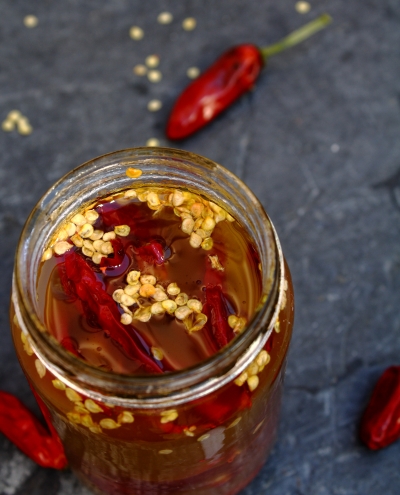 I used to eat this at a small hidden restaurant. Once I took my brother and I had to warn him in advance. The owner, who was serving the food, could be so cranky and be in such a bad mood, it was almost funny. No, it was funny. And he would only speak Portuguese. So to smooth up the things, I would ask my brother what he wanted, so when the guy gave me the chance, we would order everything we wanted, before he ran off again. In his offence, this is only his mood when it's busy. After that, it was really a nice guy.
5. Vinho Verde
To not only make this about food, I also included a really nice wine of which the white one is my favourite. Vinho Verde means young wine and it slight sparkling and has a lemon yellow colour. I know it as a fresh, fruity wine for warm Portuguese days. Vinho Verde is made in the Minho region, the northern part of the country.
Interested in following the wine routes of Minho or doing some wine tasting? Visit the Minho Verde online.
6. Amêijoas à Bulhão Pato
It can be so simple and yet so delicious. I am talking about small clams cooked in white wine and garlic. With lemon and fresh green herbs. The best thing is to use a piece of bread to clean the bowl where the clams are served in. The name of this dish is dedicated to a poet from Lisbon, Raimundo António de Bulhão Pato (died in 1912).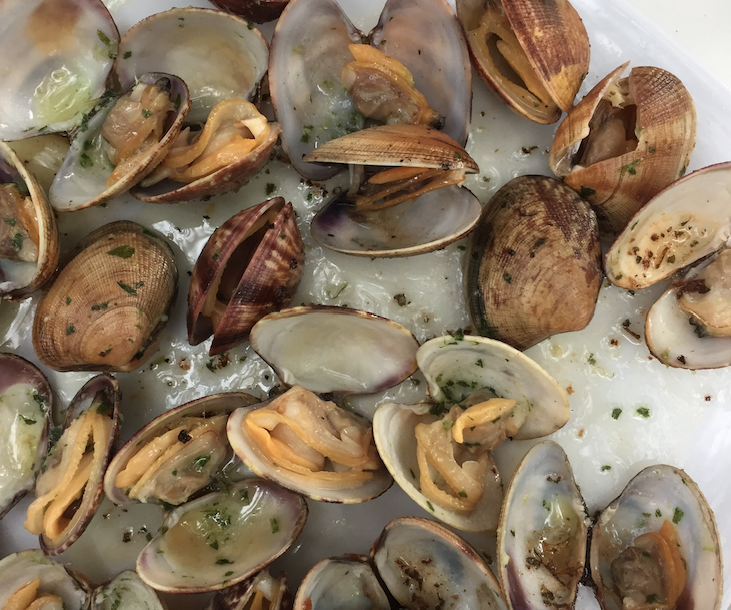 7. Bolinhos de Bacalhau
Remember my job in the techno club? Well, there was a rare occasion we didn't go for breakfast after work. In those cases, I got dropped off near my house and had to walk the last bit to the beach (yeah I lived right next to the beach!). Whenever I did that, the bakery/restaurant/whatever it was I passed, was already open. There they had all sorts of savoury pastries, fresh sandwiches, and sweets. Every time I was there I would try another thing of which I didn't know what it was. The girls behind the counter had a hard time explaining it to me, so I just bought a variety.
This way I got to know about the Bolinhos de Bacalhau. Bacalhau is typical Portuguese cod, salted and dried. In this case, they moulded it into a small bite and deep fried the thing. There like codfish fritters. And I love them. Not as breakfast of course.
8. Pastéis de Nata
On one of our after-work-breakfasts, my manager got me a Pastéis de Nata. I didn't know what it was, he just told me it was a typical Portuguese sweet pastry. And I would like it. Okay, no problem, I'll try. It is a small egg tart pastry. The filling looks a bit like custard. Nowadays it's not only made in mainland Portugal but also Brazil, Cape Verde and everywhere the Portuguese immigrants go. And yes, like the sweet treat very much!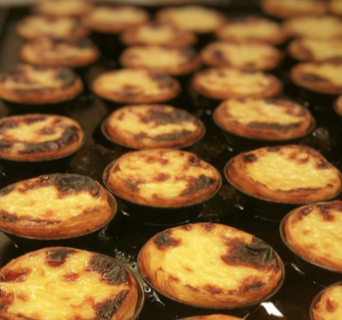 Interested in making these at home? Here is where you can find the recipe along with some videos.
♥
---
Let's keep in touch? I'd like to know more about your adventures!
facebook.com/cocodeewanderlust
instagram.com/cocodeewanderlust