The hostels in Rotterdam are some of the most fun in the Netherlands! They are cheeky, colourful and super engaging with their guests. Most of them are Instagram worthy with their beautiful murals or funny quotes. Hostels in Rotterdam are an excellent cheap alternative for hotels.
Hostels in Rotterdam: For the traveller who wants to save money
I've written about hostels before and why they're such a perfect alternative for hotels. It's not only a huge money saver, especially if you're a frequent traveller, but they're also so much fun. I've listed my favourites below. The list is based on personal experience, however, I also keep in mind my own tips & tricks when it comes to finding the right hostel.
1. King Kong Hostel
Stay in the centre of the poppin' street of Rotterdam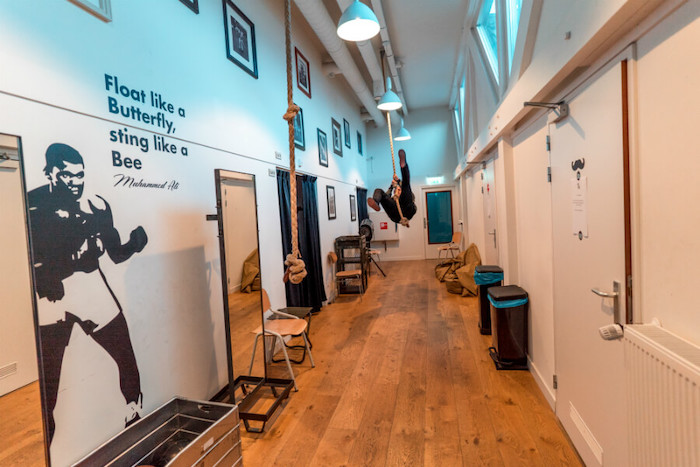 King Kong Hostel
Photo credits: hostelworld
King Kong Hostel is definitely one of the most Instagrammable hostels in Rotterdam. They have beautiful lounges, artistic rooms that reflect the city and a huge lightbox with changing, cheeky quotes. They have female and mixed dorms, but also private studios. With Witte De With street is the perfect location, because they offer a free art tour in the same street. And as an extra special for the future barbers amongst us: they offer a deal to be a student at the barber school, Schorem!
espresso bar available
film lounge with Netflix
retro gym
2. Hostel ROOM Rotterdam
Only 2 minutes away from the Erasmus bridge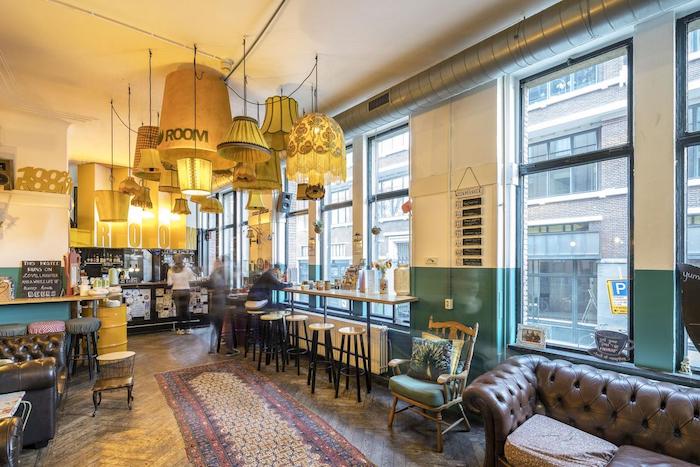 Hostel ROOM
Photo credits: booking.com
If I talk about hostels who are engaging with their guests, then Hostel ROOM is a perfect example. Not only do they offer things like bike rental, Netflix and discount for tourist attractions, but they also take it a step further. Every day they offer happy hour and every week theme nights with live music, tastings, games and even an open mic. If that isn't enough, they offer not one, but 4 different guided tours completely for free! Now that is what I call service.
free guided walking tour (choose art, highlight, night or real Rotterdam)
theme nights & daily happy hour
3. Hostel Ani&Haakien
Backpacker friendly in the city centre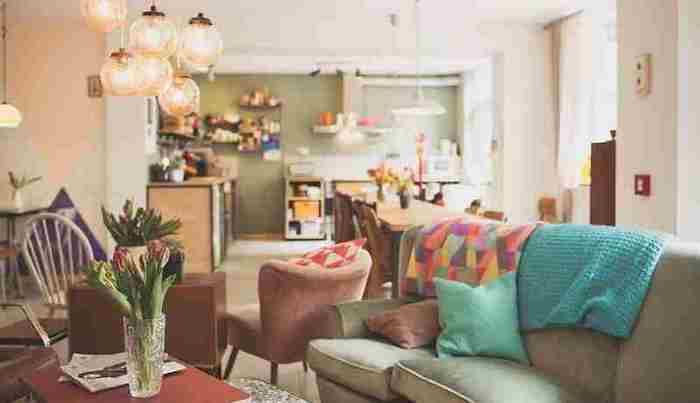 Hostel Ani&Haakien
Photo credits: City Rotterdam
The first two on this list both have a modern look, while Hostel Ani&Haakien focus more on the needs of a backpacker. They only have mixed dorms and one small private room. But here you are meant to mingle with others instead of locking yourself in a private room. They offer everything you can expect from a backpacker hostel, including book swaps, board games and the occasional live music evenings. You can rent a bike here, but what is even cooler is to rent one of their longboards! Explore the city backpacker-style!
free architecture tour
a hostel cat called Suzy (allergy pill available for free at the front desk)
garden with hammock
4. Stayokay Rotterdam
Stay in a famous cube house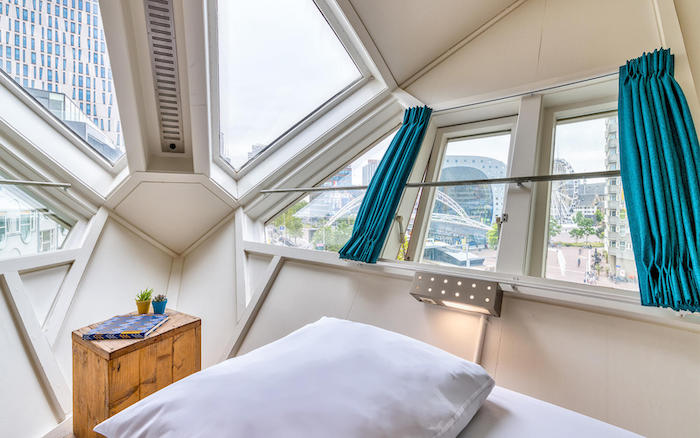 Stayokay Rotterdam
Photo credits: Stayokay
I couldn't leave this one out, now could I? Staying in one of the famous Piet Blom cube houses is almost a bucket list thing. They have simple mixed dorms, private rooms, all with bunk beds and a cube studio. Stayokay hostel offers minimum facilities (even have to pay 2-4 euros per day for a locker), so maybe just stay here for one night? And then move on to another hostel which is a lot more fun.
stay in a famous cube house
stay in a famous cube house
stay in a famous cube house
5. Sparks Hostel
Staying close to Rotterdam Central Station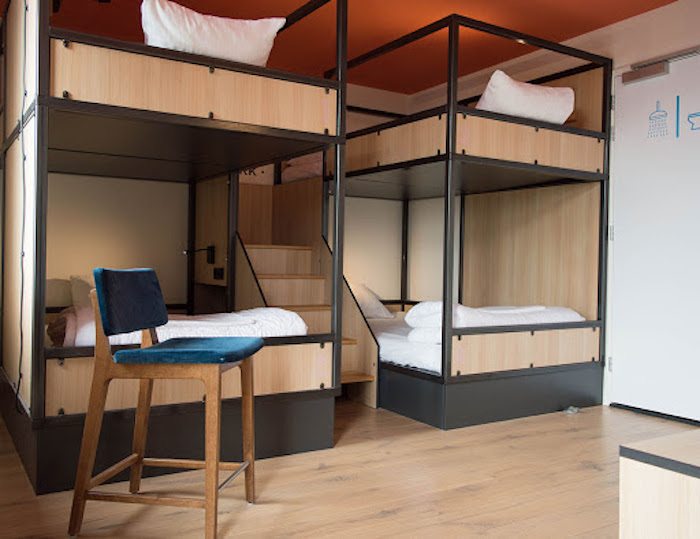 Sparks Hostel
Photo credits: Sparks Hostel
This is a cosy, but super stylish hostel & coffee bar. Sparks Hostel really has it for the more modern backpacker. The dorm rooms have comfortable beds with lots of privacy, considering you're in a shared dorm. They have a cute board where guests can leave notes and a world map to pin your origin. Also find free linen, towels and lockers and expect the usual hostel facilities here!
spacious beds & rooms
offers breakfast bags
6. CityHub Rotterdam
Private rooms only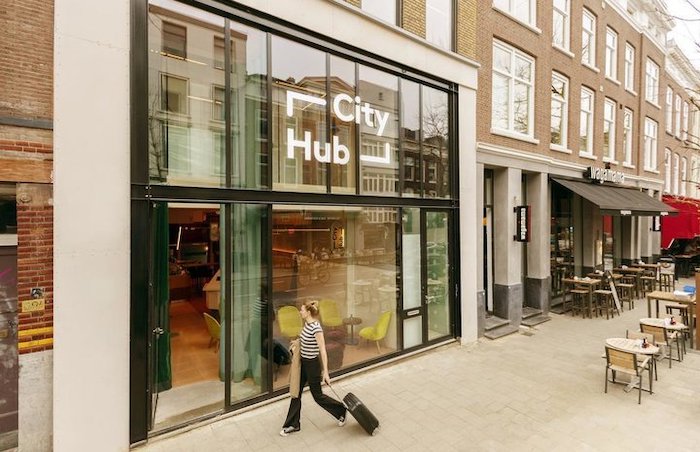 CityHub Rotterdam
Photo credits: hotels.nl
This is a supermodern, tech-savvy mixture between hotel and hostel. CityHub Rotterdam only offers private rooms with double and twin beds, and shared bathrooms. The rooms are more like pods, which are a popular trend in the hostel world. What I especially like is that they found a tech-savvy way to still interact with their guests on a personal note. Once you've downloaded their special app, you can have a personal city host recommend places while you're exploring Rotterdam. Now that is convenient!
self-service bar
personal city host
own app for exploring the city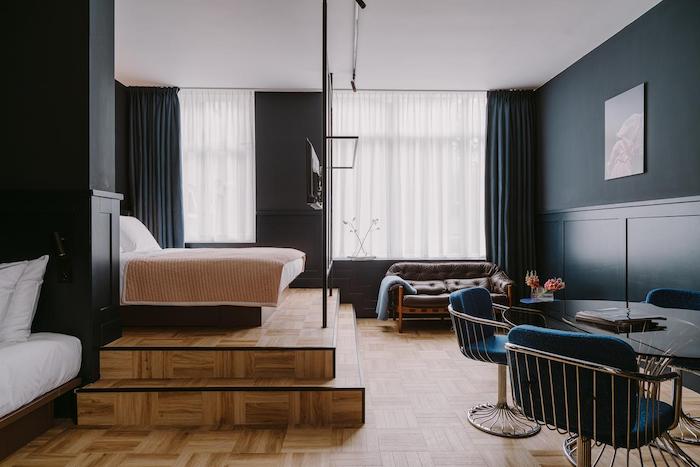 Supernova Hotel
Photo credits: booking.com
Not really keen on staying in a hostel? Or do you want to treat yourself on a nice and comfortable hotel in Rotterdam? Then this city is the right place! Rotterdam has so many boutique-styled and design hotels for a reasonable price. Check out my favourite hotels in Rotterdam here!
Disclosure: Please note that some of the links are affiliate links. At no additional cost to you, I earn a commission if you make a purchase using these links. If you have any questions, please don't hesitate to email me.
♥ – Dani
More travel & adventure inspiration:
facebook.com/cocodeewanderlust
pinterest.com/cocodeestyle
instagram.com/cocodeewanderlust
Follow my blog with Bloglovin