As the title already says, this is my guide to Barcelona. Barcelona is an enormous city and if this is your first time here, some guidance might come in handy. Don't use this as if it is written in stone, but allow yourself to explore on your own a little bit. I will just point you in the right directions. If this isn't your first time to Barcelona, for you I have a few of my favourite spots!
The complete guide is divided into different districts and neighbourhoods (barris). In my experience, this is easier when exploring a new place. Instead of trying to find the local hotspots zigzagging the city. This will either hurt your feet from walking too much or you will miss out on the beauty of the city 'cause your spending your time on the underground.
Guide To Barcelona: El Born
So every district and neighbourhood has its own story and local hotspots. Nice places to shop, eat, drink and sleep will be covered. In addition, every area has its own must-sees. Let's start with my favourite: El Born.
Together with El Raval one of my favourite places in Barcelona. This area is filled with cool restaurants, art galleries and funky stores. Loved by tourists and locals. It is nice to wander around in El Born and look at the local shops or enjoy the sun while having a drink and a bite to eat at one of the trendy bars.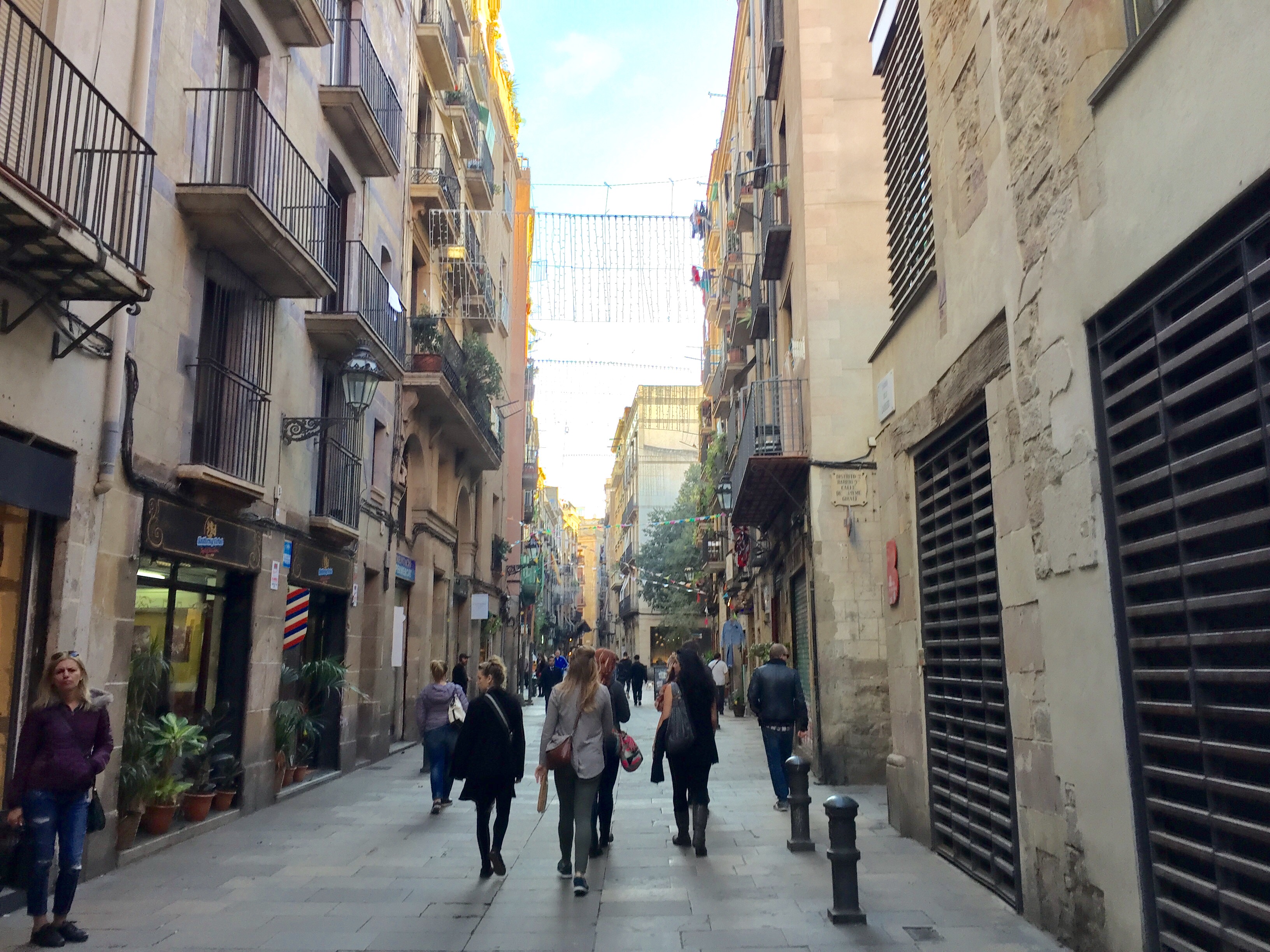 Good Morning Sunshine!
Begin your morning with a coffee at [EAT] Cafe Del Born, before hitting La Rambla. Spanish people are not in particular big eaters in the morning. So often coffee and a croissant are enough. In case you need a bit more energy, [EAT] Elsa Y Fred is a great place for breakfast and brunches (they do lunch and dinner too!).
If you have never been to Barcelona, this is definitely a must visit. From here you can easily make a turn to one of the other areas. [VISIT] La Rambla is divided into different Ramblas, the first one, Rambla de Canaletes, is where the locals celebrate the victories of FC Barcelona by the fountain. At the third Rambla, Rambla de les Flors (you are here when you see the fresh flowers), there is a metro station Liceu. From here you can follow the road into El Gòtic. The fourth Rambla is the Rambla dels Caputxins, from where you can turn into the street Carrer Ferran. This leads to the square Plaça Jaume, which leads to El Born. Or if you walk a little further down you will see a small entrance to Plaça Reial. On the other side of La Rambla, you can find your way to El Raval through the street Carrer Nou. For now, we want to dive into El Born!
After leaving La Rambla behind you, you can choose to go to the [VISIT] Picasso museum or wander around the small streets and shop in the small boutiques. The shops in this area are ever changing and new art galleries and clothing stores pop up constantly.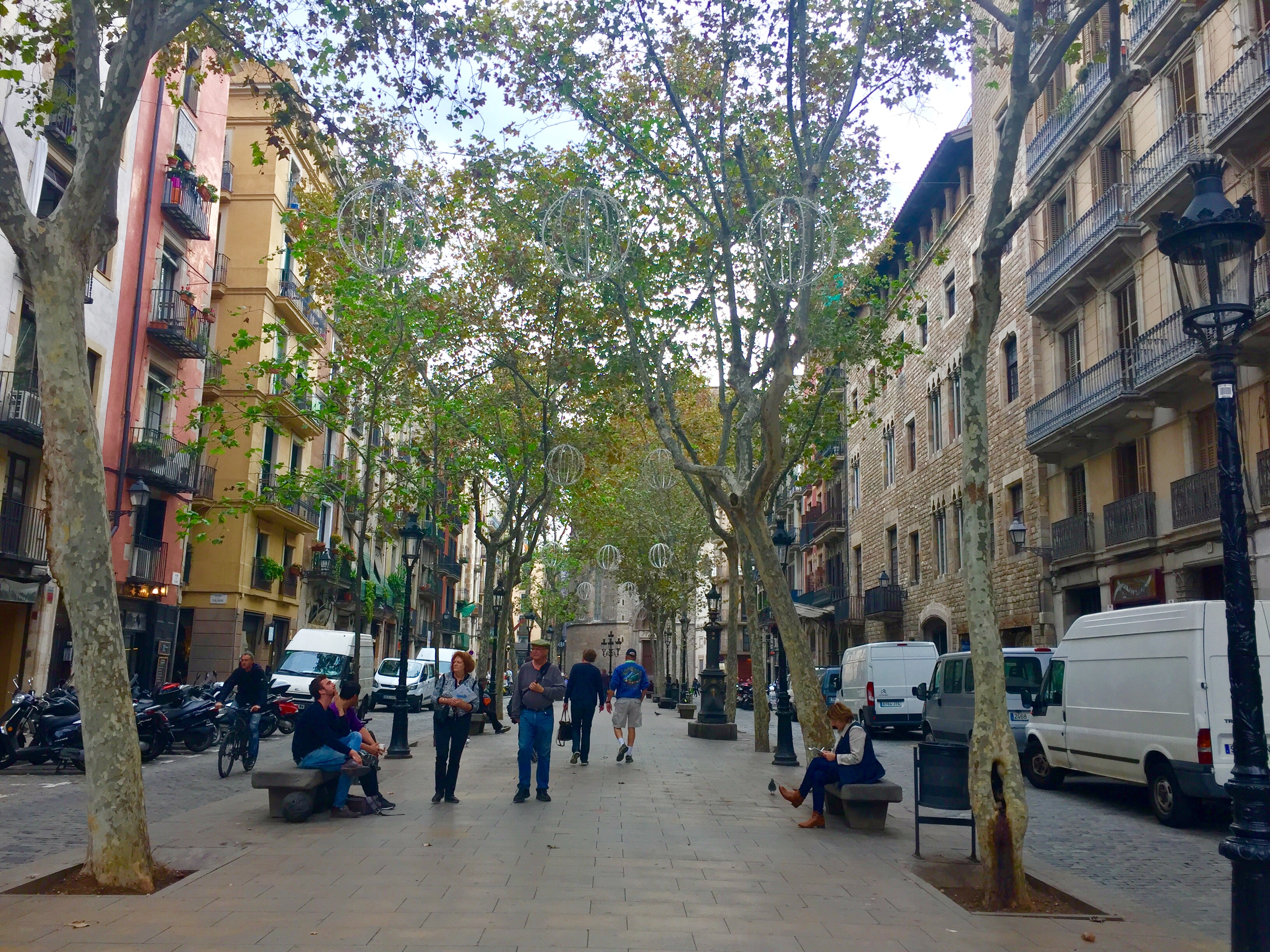 Afternoon Sessions
End your morning at the local market for lunch or to buy something for later. [EAT] [VISIT] Mercat de Santa Catarina is just like La Boquería a market with fresh fruits, veggies, fish and other goodies. Huge plus at Santa Catarina is that it is less busy than La Boquería. Go here for a drink and some tapas or sit outside at one of the restaurants.
Depending on my itinerary, I always pay a visit to Parc de la Ciutadella in the afternoon or late afternoon. [VISIT] Parc de la Ciutadella is one of my favourite places to relax, away from the busy city. If I bought something at one of the markets, I sometimes do a picknick lunch here. Besides picnicking, there are plenty of things to do here like sailing across the lake, watch the waterfall or go to the zoo. From here you can walk to the [VISIT] Arc de Triomf along a promenade filled with street artists.
Mercat de Santa Catarina, Av. de Francesc Cambó, 16
Parc de la Ciutadella, Passeig de Picasso, 21
Arc de Triomf, Passeig de Lluís Companys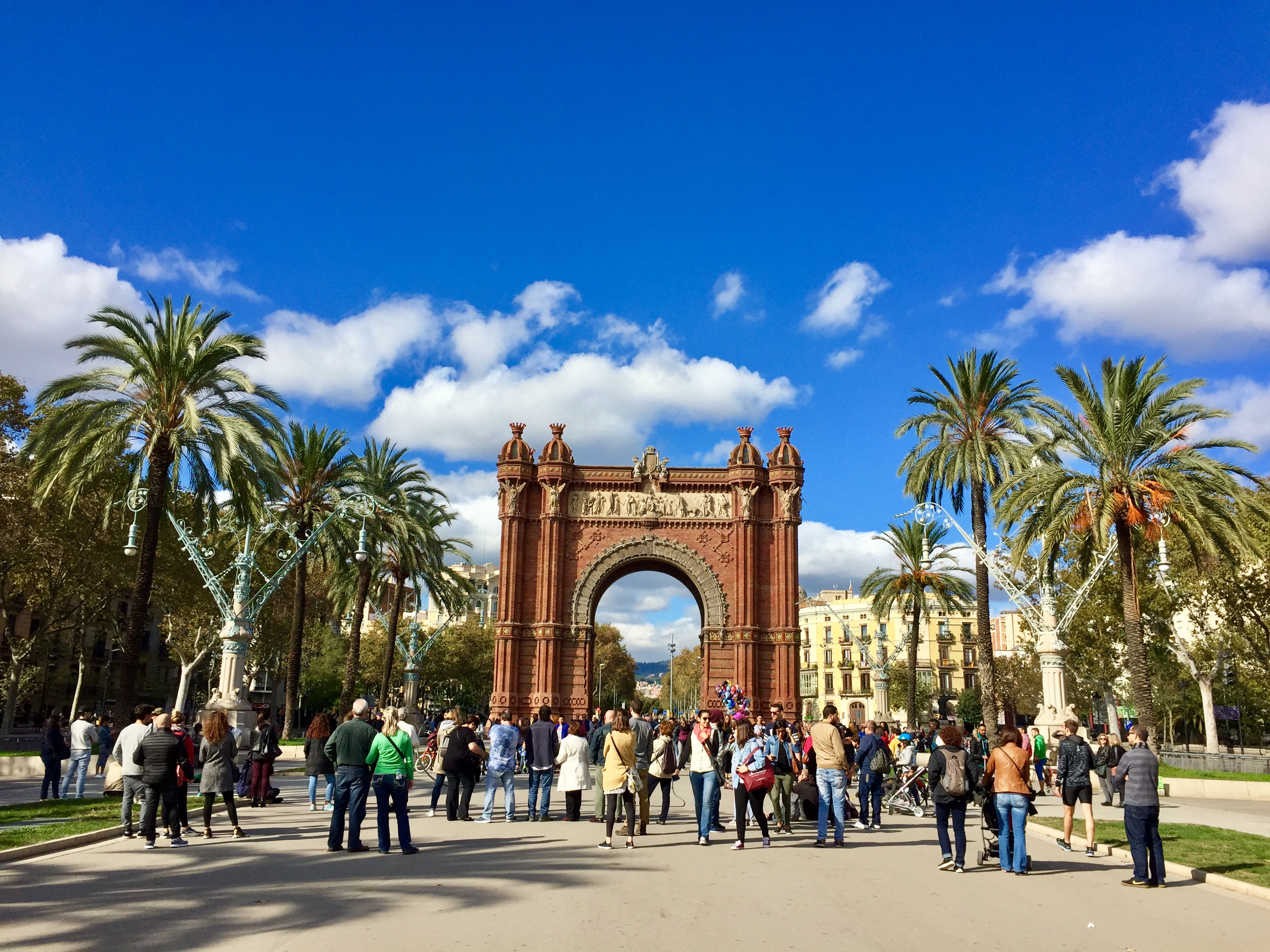 Ready For Dinner & Drinks?
Locals don't eat early in the evening, so you have plenty of time to fresh up before going for dinner. [EAT] Bormuth is a very popular tapas bar in El Born. After spending an evening here, you will understand why. Don't mind the waiting time before getting a table, just start with a drink in the meantime.
Haven't had enough and you're up for a drink? [DRINK] Número Nueve is where you want to go for after dinner cocktails. During the day they also serve food. Especially late in the evening it can be busy, but definitely worth it to try the creative cocktails.
When you're all worn out from your active day in El Born, a nice comfy bed is all you need.
[SLEEP] Som Nit Born is a guest house in a quiet street in El Born. It has clean and minimalist rooms in a building where Picasso once lived. I normally use Booking.com to search for the perfect location and accommodation.
Bormuth, Plaça Comercial, 1
Número Nueve, Carrer de la Vidrieria, 9
Som Nit Born, Carrer de la Reina Cristina, 13
How To Wander Through El Born
El Born is really easy to cross on foot. It is even fun walking through this area. You find out about the small and hidden streets. You can let yourself get lost here and that's ok. If you're not staying in this neighbourhood or want to combine your city tour with other areas, the public transport of Barcelona is the easiest way. El Born has 4 connecting metro stations:
Arc de Triomf (line 1, red)
Urquinaona (line 1, red; line 4, orange)
Jaume (line 4, orange)
Barceloneta (line 4, orange)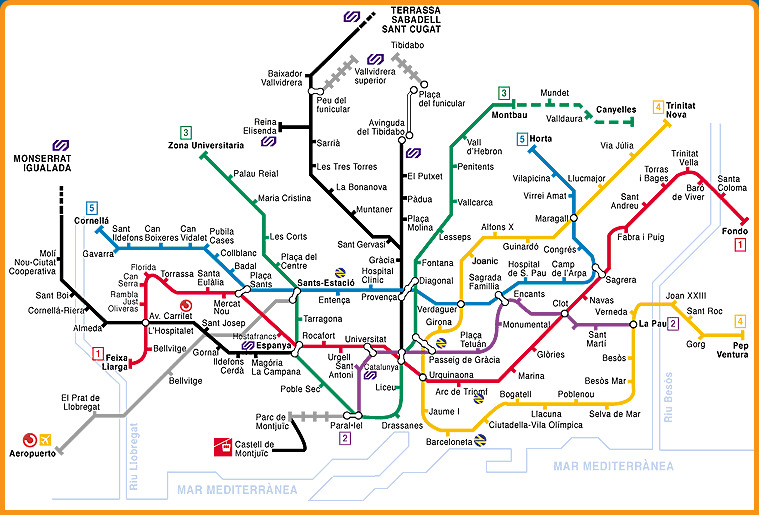 Best Kept Secrets of Barcelona
Until now, I only led you to the cool places in El Born, most people already know about. They are written in Lonely Planet Guides, blog posts, and travel articles. Everyone knows everything about something. Well, that being said, I have a few more of my favourite places here in El Born. Less written about, I think.
One of my absolute favourites is the well-hidden [EAT] [DRINK] Espai Mescladis. A cute and creative terrace with a small kitchen and bar, hosted by an association whose objective is social cohesion and (inter)cultural dialogue. They host many events in the neighbourhood, like sports matches. When I was there last time, they had a soccer match throughout the day and people were making all sorts of delicious food, like a giant pan of paella. Stop by to try lunch or just have a drink and escape the busy city for a moment.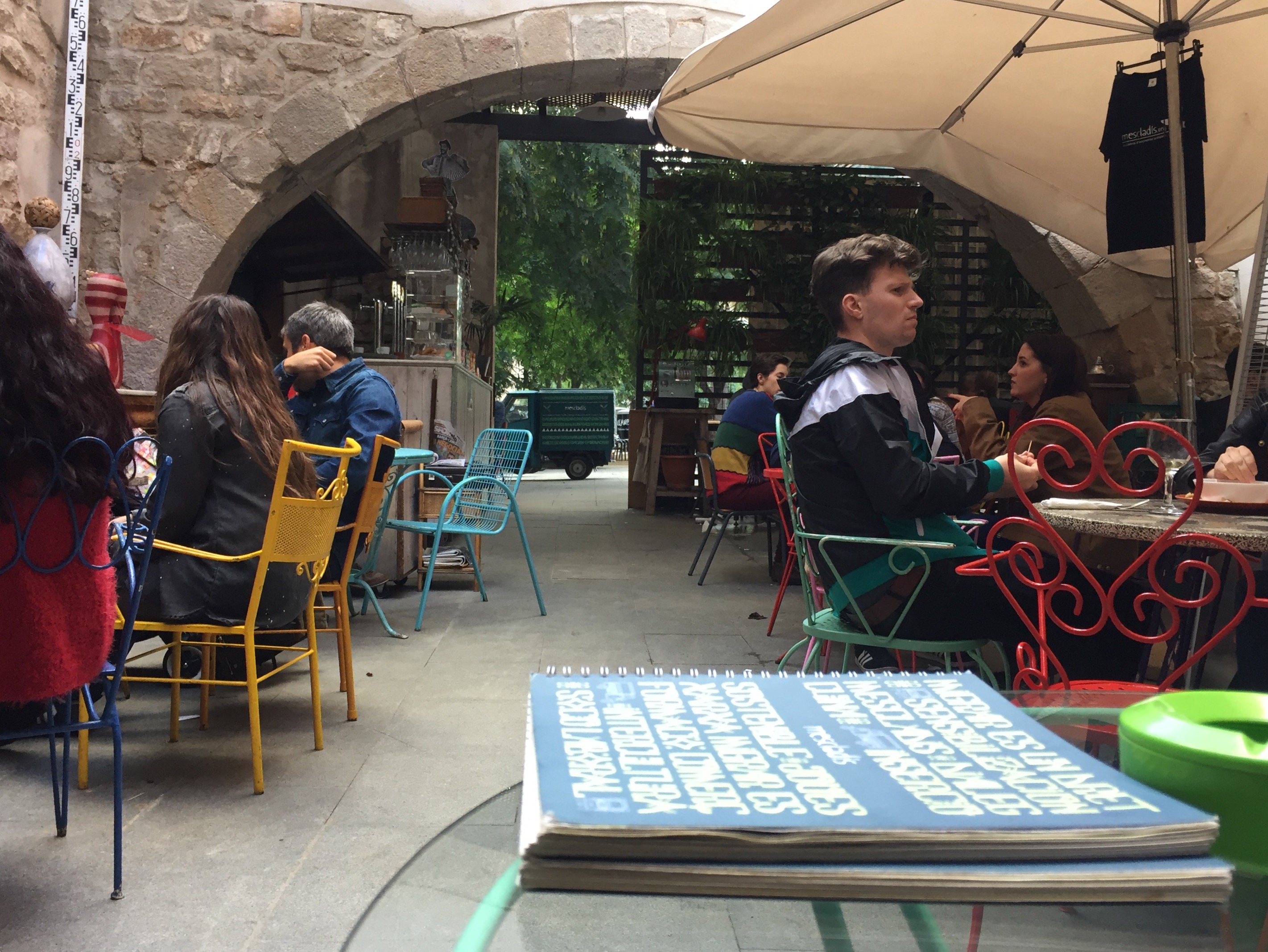 Other hotspots worth a visit (remember, tell only your best friends):
Demasié, Carrer de la Princesa, 28 | For all cookie-addicts, this shop has cookies in all sorts of different flavours and shapes. Just for admiring their store, it is worth a visit.
Mercat Princesa, Carrer dels Flassaders, 21 | This is a well-hidden tapa market in a former palace (14th century), now the host of 17 different eateries. From sushi to burgers to pinchos. Easy to overlook, so watch for the sign outside the front entrance.
Carrer del Carders | A hidden street with fun stores and cool restaurants. Make your own discoveries here.
Aire de Barcelona, Paseo Picasso, 22 | A beautiful spa in Arabic style. Maybe the most beautiful one in Barcelona!
Bar Paradiso, C. Rera Palau, 4 | It is really difficult to keep things a secret here in El Born, this extraordinary cocktail bar is still doing a good job on the matter.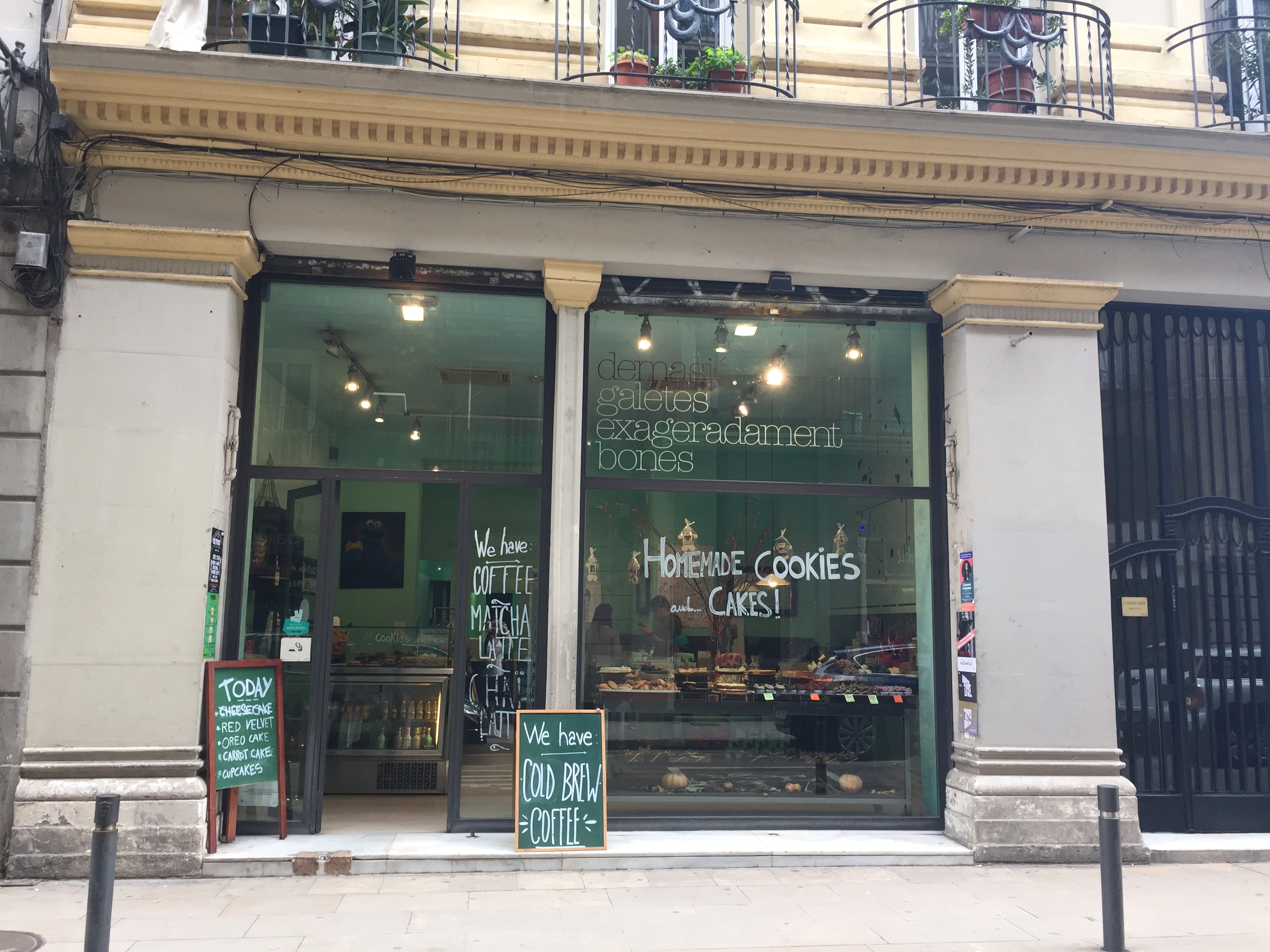 El Born District
El Born is part of the district Ciutat Vella, the city centre of Barcelona. This district is divided into the areas of El Gòtic, El Born and El Raval. The part of Ciutat Vella located near the beach is called La Barceloneta. Ciutat Vella has some of the oldest buildings in Barcelona. The famous street La Rambla divides the areas El Gòtic and El Raval. La Rambla is a vivid street with living statues, way too pricey terraces and loads of people. This street starts at Plaça Catalunya, where El Born, El Raval and L'Eixample meet, and ends at the sea.
Soon I'll be posting more about my favourite places in Barcelona! Let me know about yours!
♥
---
Shall we keep in touch? Let's inspire each other. I'd like to know more about your adventures!
facebook.com/cocodeewanderlust
instagram.com/cocodeewanderlust
Pins For Your Pinterest