Want to find out more on Coco Dee's food guide in Valencia? I've put together a list of my favourite hotspots. Every time I visit Valencia, I pay a visit to each and every one of them. Find out where I get my gorgeous smoothie bowls, where to go for dinner and where to relax on a well-hidden rooftop bar.
Coco Dee's food guide in Valencia
Before I start with the top 10 list, Mercado Colón deserves a special mention. This fairly "new" indoor market consists of different small restaurants and bars. With 2 floors of food, it's no doubt you'll leave here with an empty stomach.
Jorge Juan, 19, 46004 València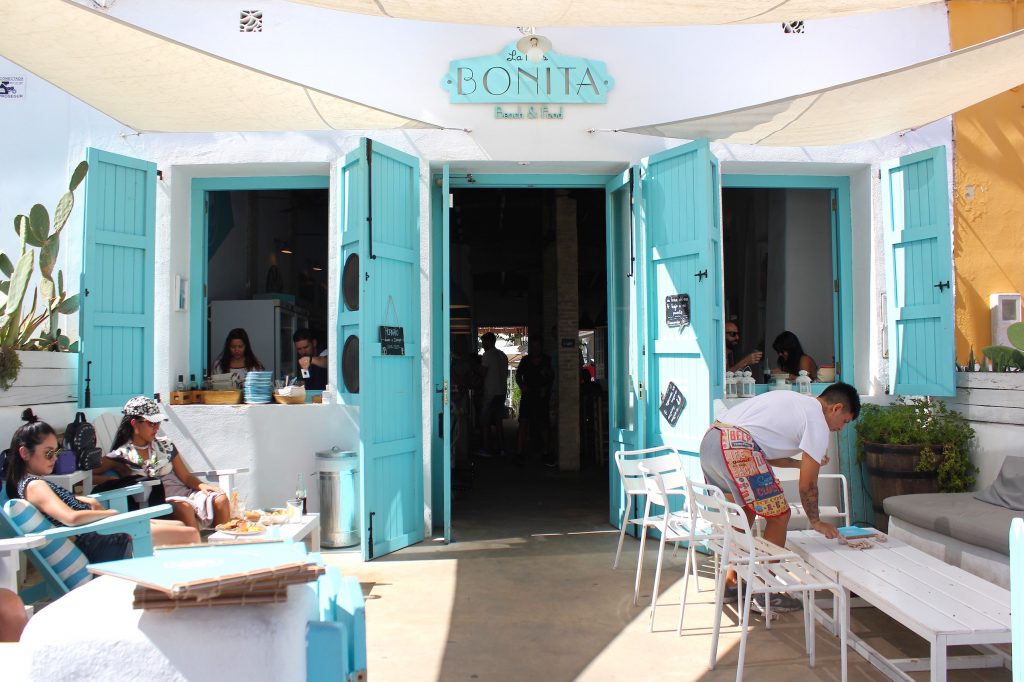 The one hotspot mentioned in almost every blog post or article about Valencia is La Mas Bonita. With now multiple restaurants La Mas Bonita should not be missed. And for good reason. You won't be able to choose from the menu! I always go to the one on the beach (Patacona) for lunch/brunch. The decor has beautiful wooden tones and turquoise elements. It looks like a mixture of Ibiza style and Greek island vibes.
Passeig Marítim de la Patacona, 11, 46120 Alboraya, València
1. Restaurant Al Tuntún
Almost at the end of Carrer de Sorni, close to Jardin del Turia, you can find Restaurant Al Tuntún. This restaurant has a beautiful interior and an open kitchen. The name is responsible for a spoiler on the menu. They have beautiful dishes on the menu, but the real deal is about the tuna. My favourites: tuna tataki and tuna tartare!
Plaça d'Amèrica, 4, 46004 València
2. Canalla Bistro
Also a very popular one and mentioned all over the internet. However, it's worth mentioning Canalla Bistro again here. The menu looks like you're about to make a trip around the world. Rarely do I see so many worldly dishes all tucked into one menu. And I love it.
Carrer del Mestre Josep Serrano, 5, 46005 València
3. Lambrusqueria
Ever since Lambrusqueria is mentioned in a guide (don't know which one, the lady at the restaurant told me), the restaurant is booming. Whenever I went I had to wait for a table. But it's definitely worth the wait. Even though they have a very nice menu, I would recommend having a surprise menu for the table. It will be family-style served and the Italian food is delicious!
Carrer del Comte d'Altea, 31, 46005 València
4. Dulce de Leche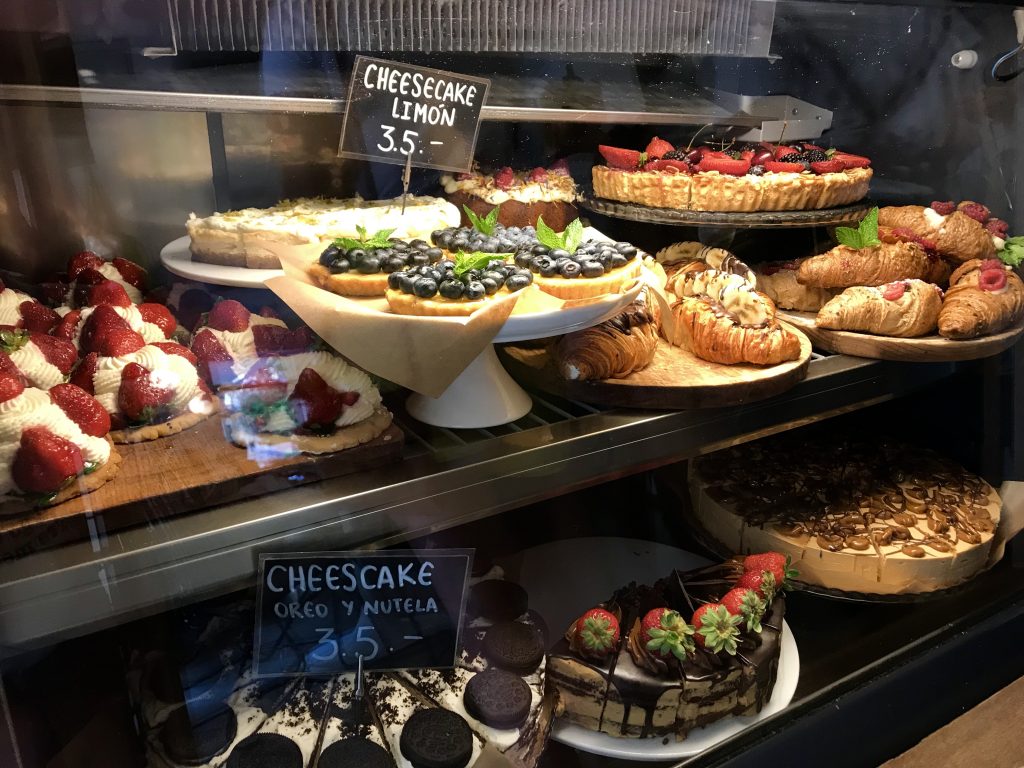 Dulce de Leche is one of my absolute favourite places to have breakfast or lunch. If I would open a cafe, it would be like this one! The counters are filled with cakes and pastries like cream-filled croissants topped with raspberries. They have fresh baguettes and bagels with all sorts of savoury toppings. Not to mention the fresh orange juice and perfect coffees.
Carrer del Pintor Gisbert, 2, 46006 València
Carrer de Jesús, 71, 46007 València
5. Vuelve Carolina
I found Vuelve Carolina by accident. The menu reflects the light and modern interior. Vuelve Caroline turns their ingredients into delicious dishes with a modern twist and worldly influences. On their menu, it goes from tapas to Peruvian dishes, to delicious main courses like the Moroccon style lamb.
Carrer de Correus, 8, 46002 València
6. La Flaca de Ruzafa
La Flaca de Ruzafa is located in my favourite area of Valencia, Ruzafa. It was so difficult to choose from their extensive menu, so we choose the surprise tapas box for two (Pandora's box). This turned out to be an excellent choice. The box contained tapas with a twist instead of the traditional fried ones you can find everywhere.
Carrer de Puerto Rico, 34, 46004 València
7. Le Petit Bistro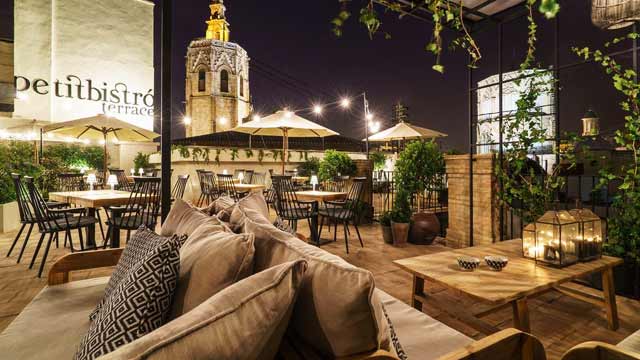 I am a huge fan of rooftop terraces, so I, of course, found one in Valencia. Le Petit Bistro is hiding in plain sight near the cathedral at Plaza de la Reina. To get to the terrace, just enter the Cathedral Suites Hotel and take the elevator to the fourth floor. My favourite time to come here is for dinner or after-dinner drinks. The view is amazing and at night the lights will create a romantic atmosphere.
Calle Cabillers 3 / Esquina Plaza la Reina, València
8. Bluebell Cafe
During my second visit to Valencia, I found this cute little cafe in Ruzafa. Bluebell specialises in coffee, but also makes delicious breakfast and lunch dishes. Because it's so tiny, it's easy to just walk past. But once found, it's not easy to forget. The garden in the back of the cafe is the perfect place to enjoy lunch.
Carrer de Buenos Aires, 3, 46006 València
9. RAWCOCO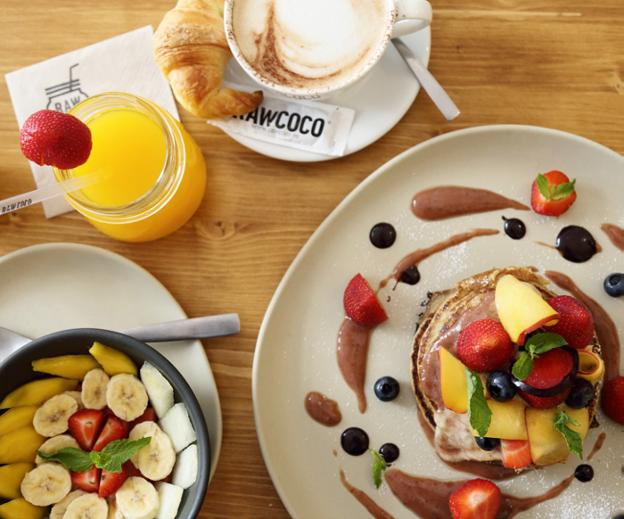 València can add another healthy hotspot to its list. 'Restore your health' is what the RAWCOCO preaches and that exactly what they do. For breakfast and lunch, you can choose here between delicious pancakes, healthy bowls, smoothies and salads. Not only the dishes are pretty to see, but they've done a great job on the interior as well.
Perez Pujol, 10 Der, 46002 València
10. Almalibre Açaí Bar
In the area El Carmen, you can find Almalibre Açaí Bar. I love this place for its healthy food. Açaí is the main ingredient here and is added to the delicious smoothies, bowls and sandwiches.
Carrer de Roteros, 16, 46003 València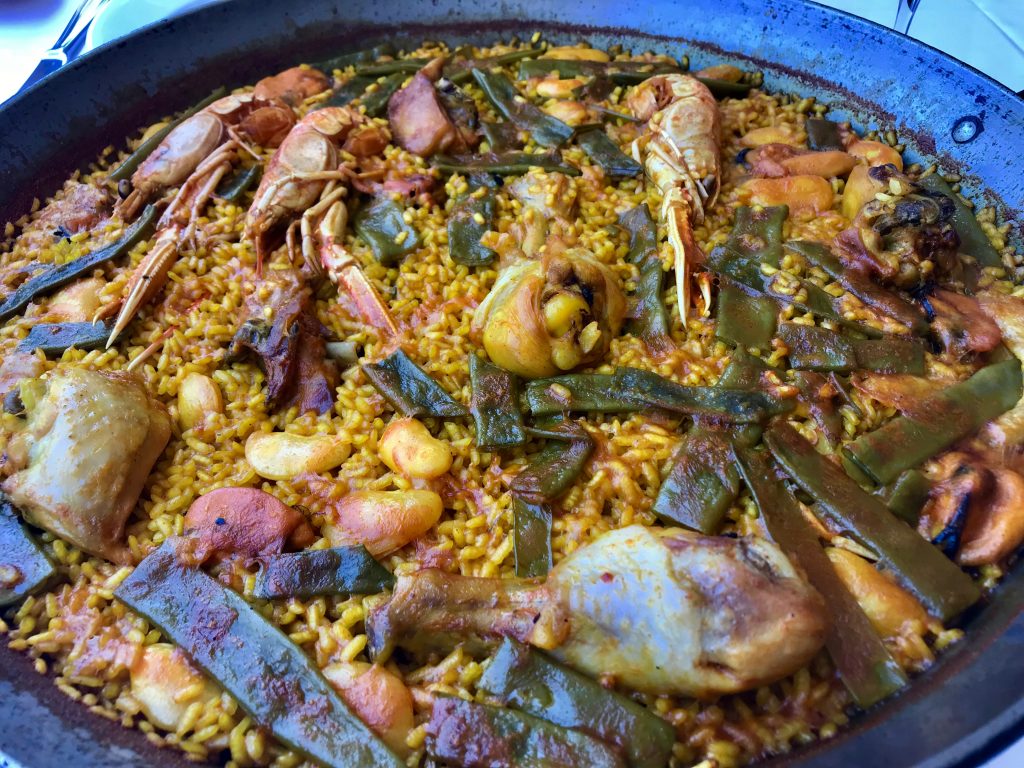 Lastly, not in my top 10, but definitely worth mentioning: La Pepica. La Pepica is a famous restaurant on the beach serving different types of Paella. The place is a little touristy and that probably has something to do with Hemingway. The famous author Ernest Hemingway mentioned La Pepica as one of his favourite restaurants. You can see all the huge Paella-pans flying out of the kitchen (the restaurant is enormous). Respect for the chefs here!
Want to see more of my trip to Valencia? Check out my stories!
Disclaimer: Even though I'm saying top 10 in this post, these hotspots are randomly put in this list. How can I ever choose which one is better than the other… Also, I'm constantly discovering more cute hotspots, so keep an eye for another food guide in Valencia ;)
Going to visit the Spanish island Mallorca any time soon? Check out 8 of the best restaurants in Mallorca!
♥
---
Let's share adventures!
facebook.com/cocodeewanderlust
instagram.com/cocodeewanderlust