Winter is almost over and that means it's time for the festivals in Europe! I'm a huge fan of music festivals and I would love to cross them all from my bucket list. It has something to do with the relaxed vibe, different styles of music and sharing these days with friends.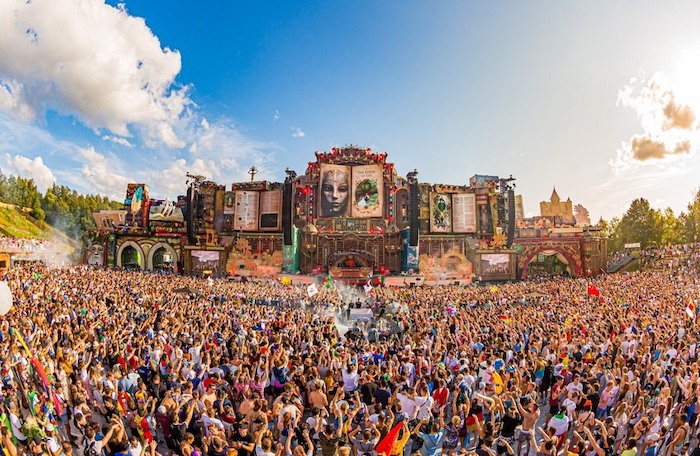 8 Awesome festivals in Europe
This bucket list is put together in random order and not nearly complete. However, these are a few favourites to visit. Check out my list of festivals in Europe below:
1. Tomorrowland in Belgium
Tomorrowland is on the absolute top of my personal list! I am dying to go here. Somehow I never went in the last few years. It probably got something to do with me being abroad or not able to get tickets. Belgium residence always gets priority for buying tickets. As soon as ticket sale opens to everyone else, this festival sells out within minutes. Crazy!
2. Exit Festival in Serbia
Exit Festival is a weekend music festival at the Petrovaradin Fortress in Novi Sad, Serbia. It has won several awards for Best Festival. It hosts a number of well-known names, but also, and this is what I like, hidden gems in the music world. Exit goes well beyond music and it's absolutely buzzing!
3. Sziget Festival in Budapest
Sziget Festival was actually my first ever festival I went to. I was super young and together with friends, we went to Budapest for 2 weeks. The first week Sziget and the second week in the city. That year one of my friends got us free VIP tickets for the opening night. I'm gonna sound really old now, but back then we paid 100 euro for a week ticket. It was the biggest festival in Europe. Now you pay over 300 euros. Even so, I want to go back so bad. I remember having the best time ever!
4. Ultra in Croatia
Electronic music festival Ultra Festival has spread to 20 countries. Ultra Europe started in Split, Croatia as a 2-day festival and a closing Ultra beach party in Hvar Island. Now it's part of the 7-day Destination Ultra which is all over Croatia, including an opening party, yacht regatta, 3-day festival, Ultra beach and a closing party. The Croatians sure now how to throw a party!
5. Lowlands in the Netherlands
The year after Sziget Festival I went to Lowlands for the first time. We stayed at the festival camping for 4 days and from what I remember I had a blast. I don't think I have any photos from then, but I sure did love it. The festival is a combination of music, art, performance and more. It's really has a community feel at this 4-day artificial festival city.
6. Melt Festival in Germany
Melt Festival is high on my to-go list as well. This is one of the biggest open-air electronic music festivals in Germany, held at the Ferropolis open-air museum of industrial machinery, near Gräfenhainichen. The location of Melt is impressive and is called 'the city of iron'.
7. Roskilde Festival in Denmark
Roskilde is in the south of the similarly named place Roskilde in Denmark. Once organised for hippies by 2 high school students is now one of the largest festivals in Europe. Since 1999 they organise a 'naked run' on the campsite. One male and one female winner receive a ticket for next year!
8. Lollapalooza in Berlin
Lollapalooza is a 2-day music festival in Berlin in September. It's not only about the music here. They have a kids area, a fashion area and the Lolla Fun Fair. It's like this music festival is one big carnival attraction complete with acrobats and such!
Germany has a lot of great festivals. In this post, I've only mentioned the larger ones, but definitely have a look at some of the smaller ones as well.
Check out my post on bucket list things to do in Europe for more fun activities!
♥ – Dani
Disclosure: This article contains affiliate links, so I can earn a commission and can keep doing what I'm doing. However, I'm supporting everything I write. You'll never pay extra using the links, you'll just help a girl out.
More travel & adventure inspiration:
facebook.com/cocodeewanderlust
pinterest.com/cocodeestyle
instagram.com/cocodeewanderlust
Follow my blog with Bloglovin