There are a few secrets to finding the best flights. Stop using travel agencies if you are searching for the cheapest flight deals. I've been travelling the world for years without going broke. Last year I've used these tricks for cheap flights to Asia, Bulgaria, Croatia and Iceland. And all my friends are wondering how I do it. Well, it's time I share you some of my secrets.
Finding the Best Flights
In this article you'll find:
Flight deals on Fly4free
Flights deals on Secret Flying
Using Google Flights
Using Skyscanner
Subscribe to mailings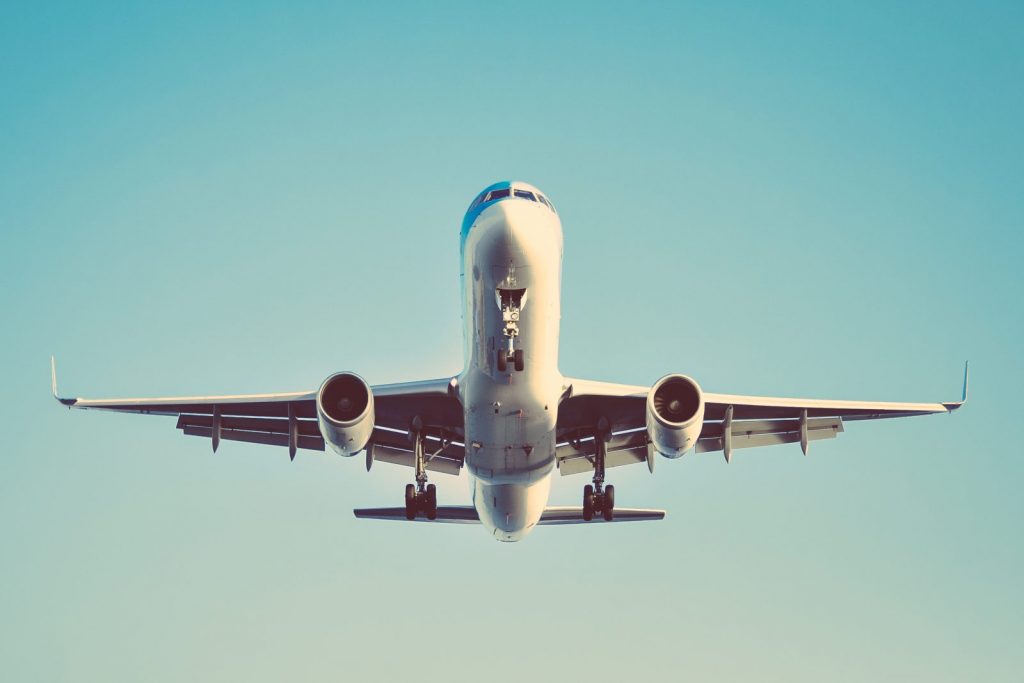 Fly4free
When I am not searching for a certain destination or a particular date, I use Fly4free for finding the best flights. Or inspiration. This is a website with flight deals all across the world. There are more of these kinds of websites, however, Fly4free is always up to date and one of the first ones with new deals. That will be your advantage when it comes to error fares.
Error fares are cheap flight tickets given out by airlines by mistake. Often these tickets have a ridiculously low price. Once purchased the airline can cancel the flight but is sometimes too late to do so. Congratulations, in that case, you just got yourself an early Christmas present!
Secret Flying
Another great one is Secret Flying. It works the same as Fly4free. Secret Flying has a more specific search option and a standard frame with error fares on their home page.
For my Dutch readers: I also use Tickettipper on a frequent level. This is a Dutch website with flights from the Netherlands, Belgium and Germany. I warn you, it is very addictive. I've pinned their posts on Facebook, so I'll see the deals first. This only feeds my addiction, but it got me cheap deals under 50 euros within Europe.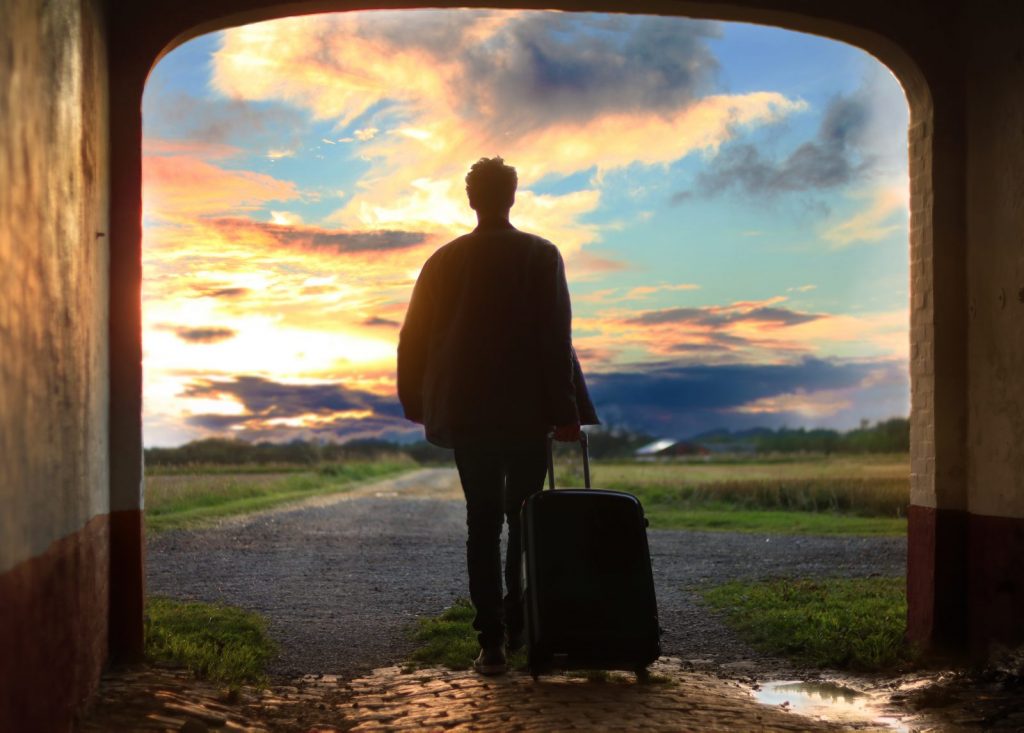 Using Google Flights
With Google Flights I search for a specific destination or specific date. Rarely both at the same time. This is never as cheap as you would like. But if you have no choice, I'll show you how to a trick on finding the best flights, even then.
Google Flights for a specific destination
I use Google Flights for finding the best flights for a specific destination. First enter a few specifics like the departing airport, arriving airport and a random date (I'll explain that one later). It might be wise to enter multiple airports that are closeby. In the example used for this article, I've added Amsterdam Schiphol, Eindhoven Airport and Rotterdam Airport as departing airports. You can do the same for the arriving airport.
If you want, you can adjust the number of stops and price. Within a range of 6-hour flights, I would suggest to set it to no stops only and a price up to a maximum of 300 euro. If you're searching for more offbeat places like the Azores or the Faroe Islands, don't adjust the number of stops. Some destinations don't have direct flights.

Earlier I said to enter a random date. This is why: after entering all the previous details, now click the calendar. The calendar will now show you different prices like in the image below.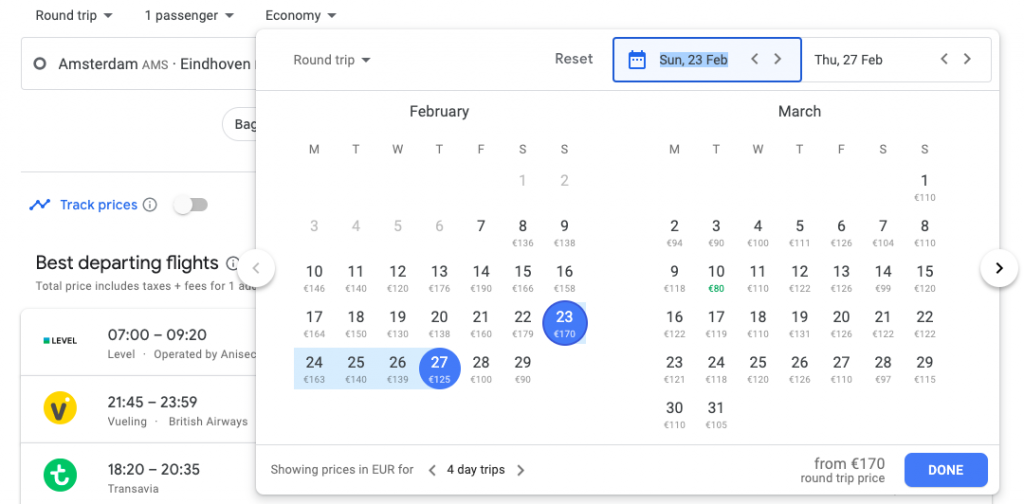 The cheapest dates will be marked by a green price. When you click on, in this case, March 10th, you've marked the 10th as a departing date. You'll immediately continue to with a new set of prices in the calendar, marking the return flight. I now clicked the 14th for the inbound flight.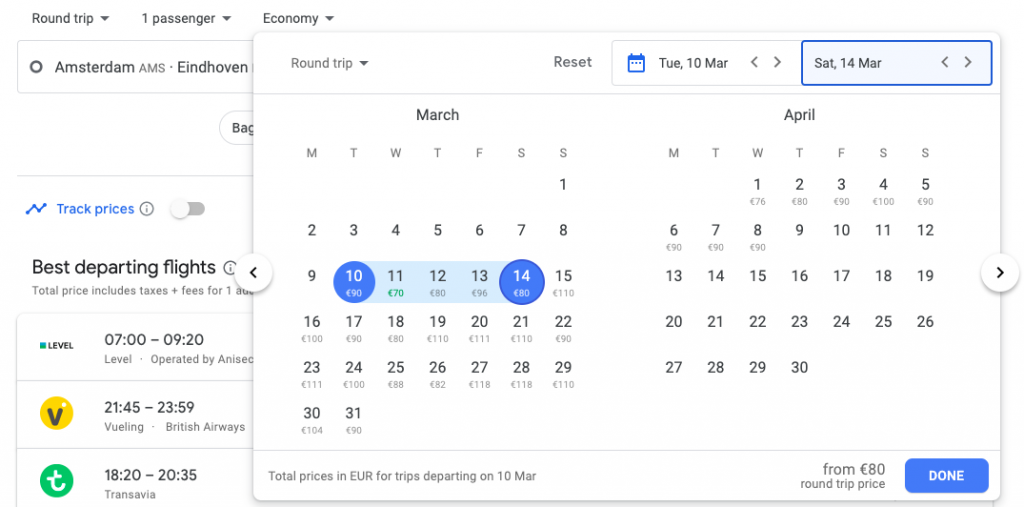 I selected a return flight from Amsterdam to Barcelona for 80 euro. Click done and you'll see the selected flight with time and airline. You can click the selected outbound flight and you'll continue to the inbound flight.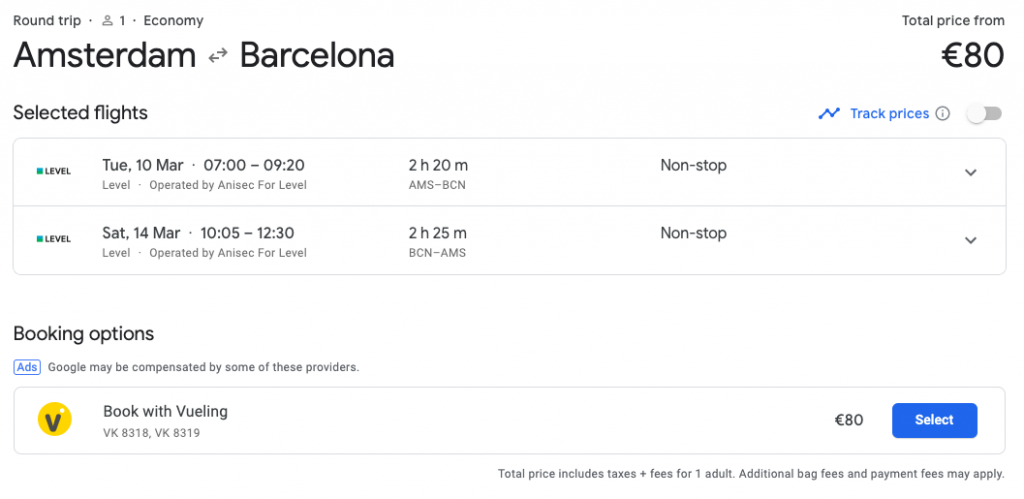 If you're unhappy with the times or anything else, you can search again or even make adjustments in the search options first.
Google Flights for a specific date
Another secret to finding the best flights is to keep an open mind on the destination. If I have a set date for a short city break, I always use Google Flights. Again enter specifics like the departing airport, no stops only, price, but keep the arriving airport open.
As you can see in the image below (top left), I've set Amsterdam Schiphol as the departing airport (you can also add multiple airports), clicked non-stop and set the price on a maximum of 150 euro roundtrip.
Now the map automatically shows you the cheapest destinations within your specifics. Often I play around with the times as well, to make sure that the ridiculous early flights aren't shown. Now simply click a destination to view the option of flights.
Once clicked on a destination, you'll first see the outbound flight. After selecting the outbound flight, you'll be able to see the inbound options. Keep playing around with the settings until you're satisfied.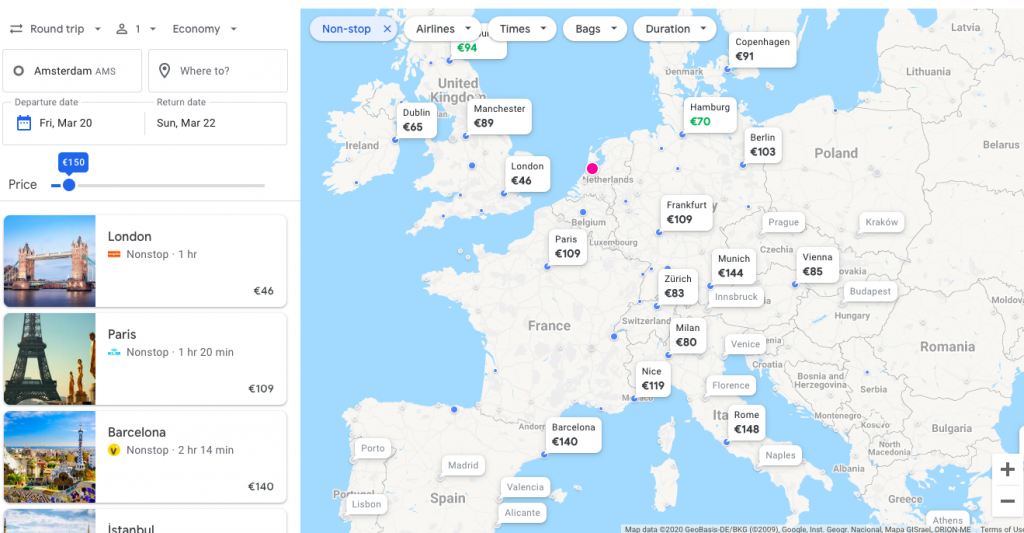 Skyscanner
Skyscanner has some great option when it comes to finding the best flights. I normally turn to Google Flights first and Skyscanner second.
Going Everywhere with Skyscanner
I especially love the option Everywhere, like in the image below.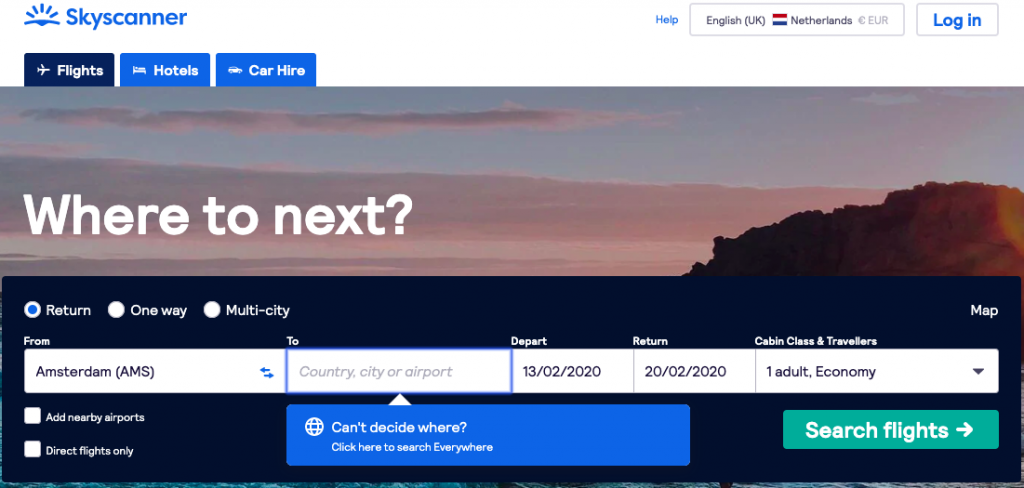 In addition, you also have the option to select a specific month instead of a set date, or you can choose cheapest month.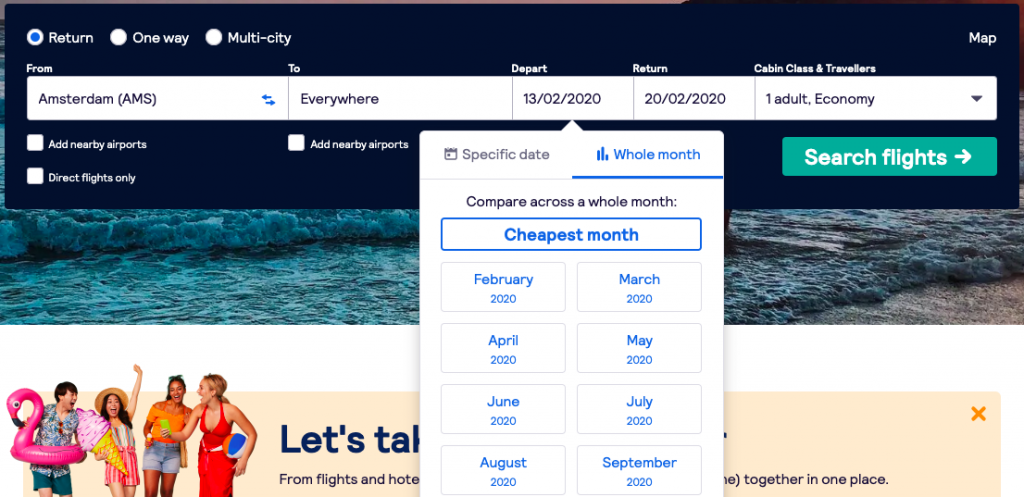 Once selected, Skyscanner will give you a list of destinations with the cheapest airfares. I love playing around with these options and see if I can find a destination where I haven't been.
This method is a bit similar to the one I showed you on Google Flights. However, Skyscanner sometimes shows destinations where I haven't even heard of. So it is a great way to gain inspiration. I now just selected the top destination from Amsterdam, which is Ireland. And as you can see, it won't only show the obvious cities Dublin and Cork, but also Kerry and a bunch of other cities I wouldn't even have considered before this.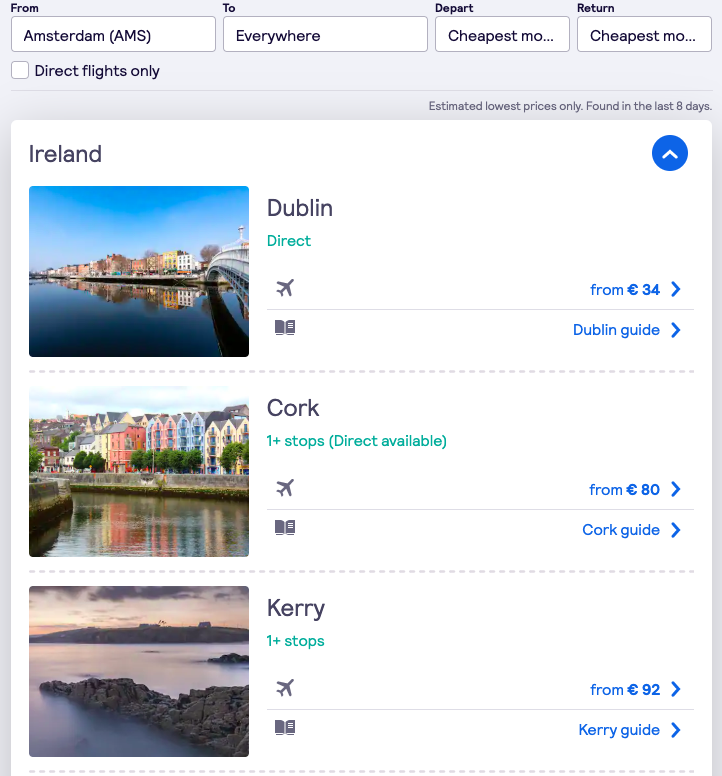 Finding the best offers with Skyscanner
Another way of using Skyscanner in finding the best flights is when you've already chosen your route. Once I've entered the desired route and dates, hit search flights. Skyscanner will give you a list of airlines who offer flights on that specific route with that specific date.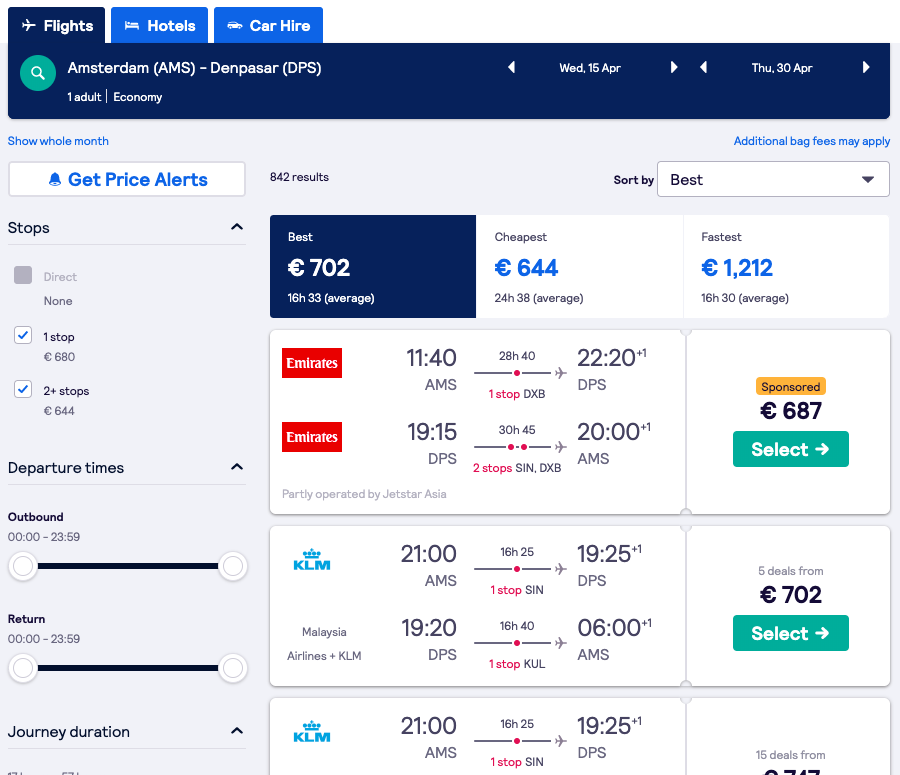 On the left side, you can enter specifics, like journey duration and number of stops. Because I have time, I often use the cheapest option. These options usually have a longer layover, which I don't mind. Most connecting airports have numerous activities and sometimes even city tours, like in Singapore.
Once selected an airline, Skyscanner will now give you several offers of organisations and the airline itself. You know, sometimes it's not the cheapest option to book directly with the airline.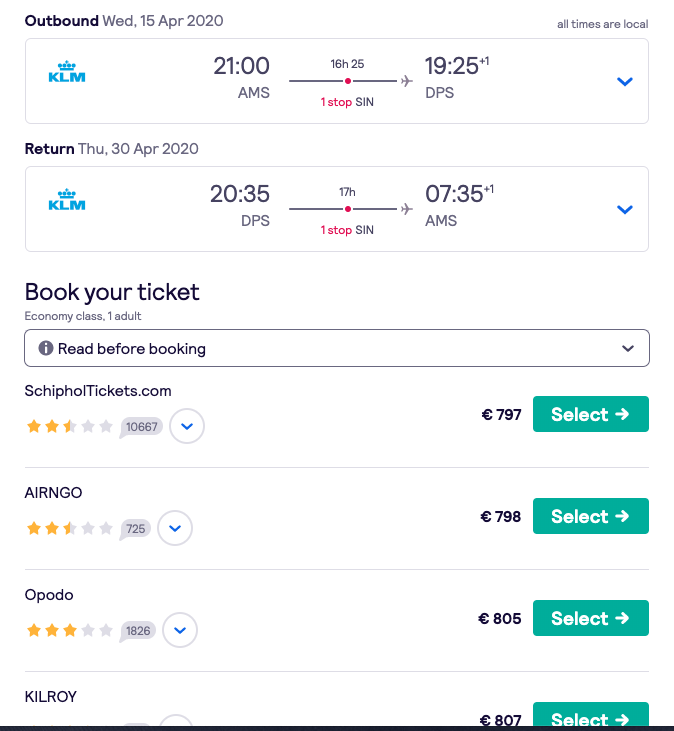 Subscribe to mailings
Google Flights and Skyscanner are my two main search methods and Tickettipper, Fly4free and Secret Flying are my sources of inspiration. Another way to give me an advantage in finding cheap flights is my subscription to several mailings.
These mailings are from:
Especially the news from airlines and business news can be an advantage. To give you an example: In 2019 the Icelandic airline WOW air ceased operations. This meant that there was an opportunity for routes in and out of Iceland. Soon after Transavia announced that they will be flying into Iceland starting later that year. To promote new routes, often flight are insanely cheap. I bought my ticket to Iceland with Transavia for only 75 euro! Of course, I was one of the first ones who took an early opportunity.
Same goes for European flights to Georgië. Multiple airlines announced new routes to Tbilisi in 2019 with return flights for less than 50 euros.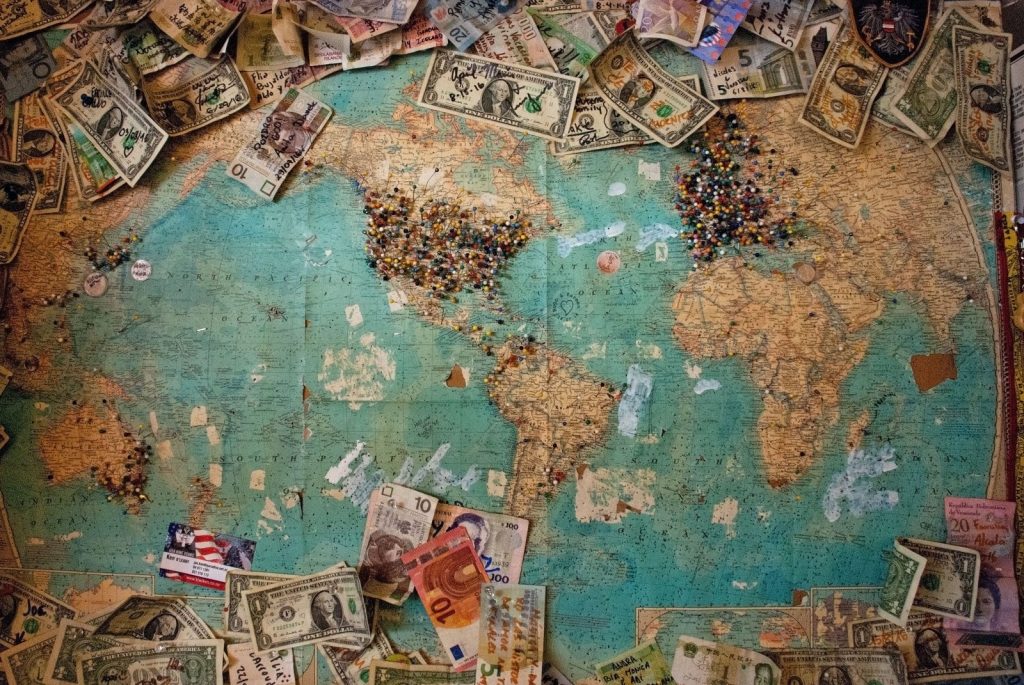 Keeping an eye on travel news can certainly give you an advantage. However, flexibility is often key here. Also having an open mind regarding destinations wouldn't hurt either. Next time I'll show you how to use search tricks to organise a multi-city break, with cheap flights crossing Europe.
Also, check out my post on What to do when your flight is cancelled.
♥
facebook.com/cocodeewanderlust
instagram.com/cocodeewanderlust
Pins for your Pinterest